Inside: Looking for engaging, educational activities to do with your preschooler at home? Dive into our favorite activities that are simple for you and that preschoolers love!
---
My heart sank as I read the message. Jacob had been back to preschool for one day after Christmas vacation, and now they were closing for another two weeks.
After two weeks of Christmas break, we were going a little stir crazy, and now we have two more weeks. I took a deep breath as my mind raced, trying to think of fun activities to keep us busy that are also educational.
I love having Jacob home with me. His joy and excitement for life is contagious…but in the middle of winter, with a young baby, it's difficult to spend any amount of time outside.
Too much screen time restricts brain development, so we limit how much the TV is on during the day.
The toys that flash and blink get old…And for the love of Pete, if I have to listen to the barking guitar that Jacob's aunt and uncle so lovingly gifted him one more time I just might lose my mind. (Don't worry, I've been plotting my revenge…)
I wanted some hands-on activities that would strengthen his creativity, and allow him to practice problem-solving, perseverance, and fine motor skills.
Kids Learn Best Through Play
O. Fred Donaldson said, "Children learn as they play. More importantly, in play, children learn how to learn." Play is essential for learning.
Sometimes, kids need to be shown how to play. Offering open-ended toys and unstructured play time are critical to teaching your child how to explore the world around them.
The following activity ideas will encourage your child to boost their imagination, and practice problem-solving, perseverance, creativity, and social skills like friendship and kindness.
Bring your Water Table Indoors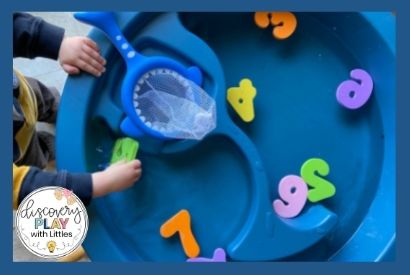 We adore our water table, and it provides endless hours of fun. Who says you have to wait until summer to play with your water table? Put an old shower curtain under it and bring it inside to spice up the cold winter days.
Water tables are great for developing and strengthening fine motor skills, imagination, problem-solving, and any academic skills you incorporate into your water play.
Dot Sticker Activity Ideas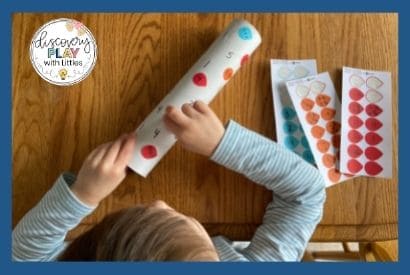 Kids love stickers, and using them with activities is a wonderful way to catch a few minutes of peace!
These dot sticker activity ideas are sure to get your kiddo excited about learning. They are simple to set up and versatile.
It's simple to use dot stickers to teach letter recognition, name recognition, counting, subitizing, number recognition, shapes, colors, and even creativity and imagination. Dot stickers are a staple in our house, and after seeing these simple activity ideas you will love them too!
All About Me Activities for Preschoolers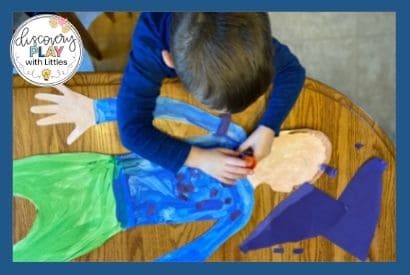 Dive into our favorite ways to help your little learners explore what makes them unique and special, all while learning about their friends and building strong relationships.
Alphabet Practice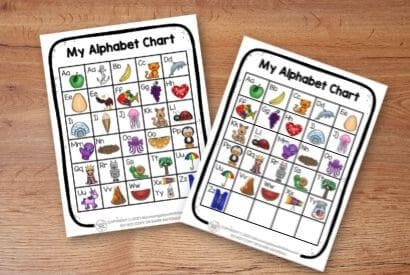 Looking for some quick, simple ways to teach your child the alphabet? Grab our free printable alphabet chart. By taking just a few minutes each day to play some of these simple games, you will see your child master their letters quickly, and fall in love with learning!
Get Crafty with Torn Paper (While Strengthening Fine Motor Skills)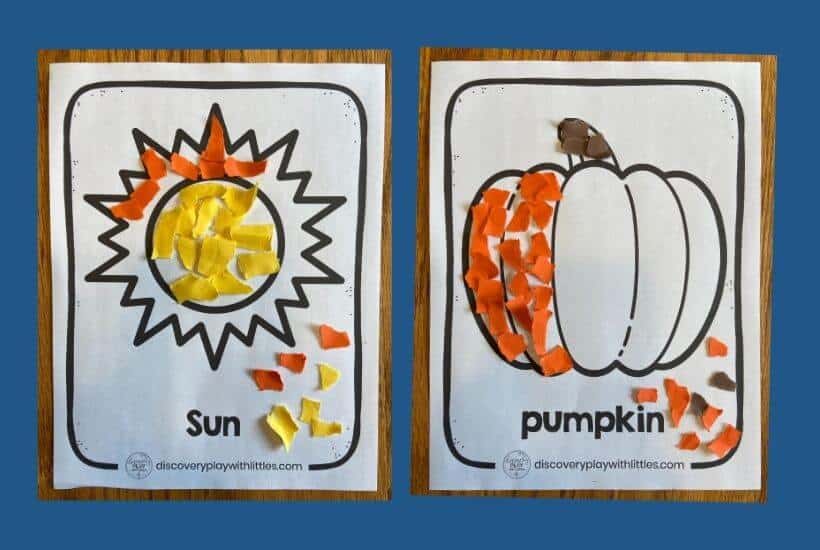 Kids fine motor skills are declining to the point that some children have difficulty holding a pencil or crayon, or even struggle to turn the page of a book.
Tearing paper is a great way to strengthen muscles in little fingers, plus it's just fun! Dive into our favorite tearing paper activities.
Have a Safari Day
Spicing things up with a safari theme is sure to get your kiddo excited about learning. Kids love animals, and learning about them and using them to practice math and the alphabet is sure to spice up your day.
Let's Talk About Shapes!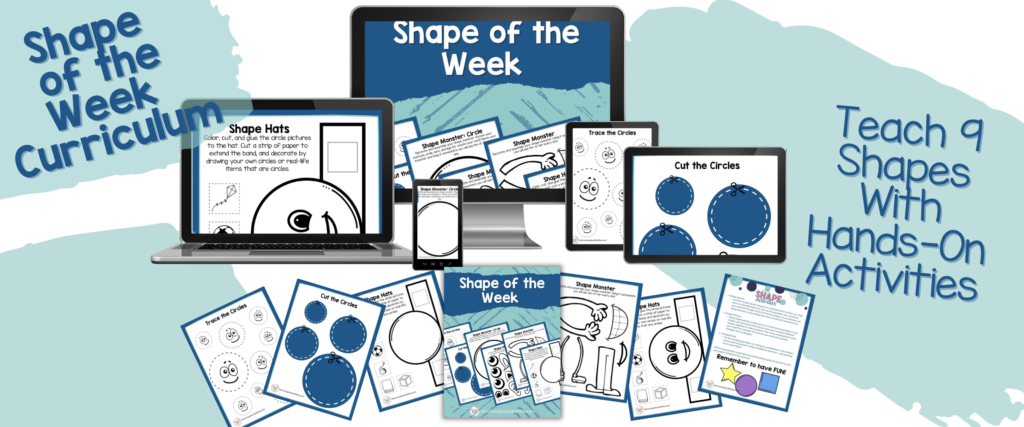 Shapes are a fun thing to study (or review) because they're all around us. Go on a shape hunt, and grab our Shape of the Week Curriculum to make shape hats, suncatchers, or shape monsters. Find 3D shapes around your house and see what you can build with them. Even if your child knows their shapes, reviewing them is a way to give your kiddo a task that will keep them excited and engaged.
Read
Did you know that there is a million-word gap between children who are read to regularly and children who aren't? A MILLION WORDS.
The benefits of reading are amazing, but reading the same books over and over…and over again can get a little tedious when done in the same way.
Teach your child that they are a reader. Reading the pictures is reading. Once they view themselves as a reader, their confidence will soar and their excitement for books will grow. They can look at the pictures and make up a story that goes along with the pictures. To teach them to do this, ask them questions like:

Who is in the picture?
What are they doing?
What do you think will happen next?
What else do you notice?
Reading in different places, in different ways will make reading seem like a whole new activity that your preschooler will love!

Take a book, pillows, and blankets and read in the bathtub
Make a tent out of couch cushions and blankets and read in your tent
Read in a dark closet with a flashlight
Read under the kitchen table
Read in bed, under the covers
Read to a pet, stuffed animals, a younger sibling, or a family member
Dress up in the clothes of a family member, read in a voice that sounds like that family member
Book Picks for Kindergarteners
Favorite Books for Preschoolers
14 Must-Read Books for Toddlers
Great Books for Boosting Babies Development
Are you tired of hearing "It's TOO HARD!" followed by a meltdown?
Using this one simple phrase you'll get in this powerful lesson, you'll not only be able to help your kiddo not give up but you'll:
>Activate their superpower of perseverance so that they can turn around a meltdown and keep trying
>Inspire them to use perseverance…even when it's hard
>Teach them to recognize the warning signs of giving up, and how to turn it around by taking control of their choices.
Grab your powerful FREE video lesson to teach your kiddo one of the most powerful keys to perseverance.
Cook Together
Cooking and baking together is a great way to spend quality time together. Kids love scooping and dumping the ingredients, and of course, licking the spoon afterward!
Bake muffins or cookies for a neighbor, or just have your child help you with dinner.
Cooking involves a lot of math (have your child do the counting), but it also introduces the idea of processes, following directions, offers quality time together, and introduces them to the important skill of cooking.
Play Board Games
There are so many great things about playing board games! Board games teach important social skills such as turn-taking, cooperation, problem-solving, and being a gracious loser.
In addition, you can easily make any board game academic by adding some flashcards. Before your turn, draw a card.
This works well for :
Letter ID– Write letters on cards and when you draw a card, say the letter name
Letter Sounds-Write letters on cards, when you draw a card say the sound the letter makes
Beginning Sounds– Using letter cards, when you draw a card say a word that begins with the letter you drew
Rhyming– Draw pictures or write words and say a word that rhymes with the picture drawn
Number Recognition– Write numbers on cards and say the number name when you draw a card
Counting– Using the same number cards and above, count to the number on the card that you draw. Once you can count forward, count backward starting at the number you draw.
Greater Than/Less Than– Draw two cards and state which one is greater and which is less. If you draw the numbers 7 and 4, you would say "7 is greater and 4 is less."
Some of our favorite board games are :
As an Amazon Associate, I earn from qualifying purchases at no additional cost to you.
Feed the Woozle is one of our favorites. It has different levels of play, so your child loves it for years to come. You set the Woozle up across the room and feed him gross snacks like sand pizza and toenail cupcakes. Kids find this hilariously funny, and it's a great way to get them up and moving.
This is a great educational game that we play all the time. Work on colors, shapes, and counting as you rescue the bugs from the stinkbugs that are trying to attack!
Sensory Bins
Sensory bins are amazing activities for little hands! A sensory bin is simply a bin filled with a sensory filler such as rice, sand, beans, or water beads, and fine motor toys or tools such as tongs, scoops, tweezers, or small cups.
These bins usually are made around a theme such as a farm sensory bin or a construction site sensory bin. Luckily you can probably make several bins with simple supplies you have at home already!
Sensory bins are hugely popular with kids and parents. Kids love the opportunity for exploration and imagination, and parents love them because they are simple to make and they keep your child engaged much longer than any other toy!
Sensory bins give kids a chance to practice:
Fine motor skills such as pinching, pouring, dumping, scooping, squeezing
Language skills as they describe what they are doing and learn colors, shapes, and things they imagine
Social skills as they practice problem-solving, imagination, sharing, and working together
Academic Sills (although this depends on the bin) any academic skill can be incorporated with a sensory bin! My favorite academic skills to include are letter sound/id, beginning sounds, counting, addition, and subtraction.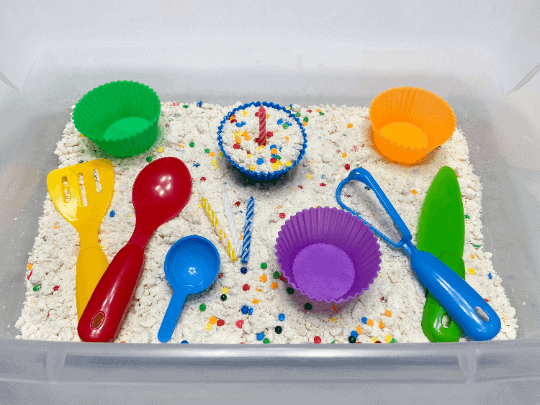 Crafts
Create a craft box full of random things like toilet paper tubes, paper towel tubes, random scraps of fun paper, ribbon, glue sticks, scissors, stickers, paints, feathers, empty spice/sprinkles bottles, and any other random things you have handy.
I love to set the box out and let the kids go wild.
I had a center like this in my kindergarten classroom. It was a favorite every year, and I was always so impressed with some of the inventions the kids would come up with.
To switch it up, give your kids a task to complete such as: "Guys! Thanksgiving is coming up and we need a turkey. Today I need you to invent something that will catch a turkey!" Don't give them too much direction. Give them an idea and see where they take it.
Fine Motor
Fine motor skills have been declining in kindergarteners in a big way! Every year I'm shocked at the number of kids that came in and couldn't hold a pencil or crayon, scissors, or even manipulate the pages of a book. Here are some simple, fun fine motor activities to set your child on the path to success.
Want More?
If you liked this, you'll love:
Simple Ways to Strengthen Fine Motor Skills
Tearing Paper Activities: Strengthening Fine Motor Skills
9 Activities to Teach Social Skills that You Will Actually Enjoy
Your Turn
What are your favorite simple activities to do with your preschooler?