Inside: Teaching your child to recognize and write their name is no simple task. Use these engaging activities to help your child love practicing to write their name, and watch their confidence soar as they master their name.
---
I took a deep breath. I knew I should have been teaching him to write his name sooner, we were just so busy playing outside. Now we've begun preschool and he's the only one in his class who can't write his name.
"Cammon, buddy. Just one more time. You've almost got it!" "I don't want to," he said flatly as he stared up at me and refused to pick up his pencil.
I tried to remember deep breaths as I felt my chest getting tighter and I tried to fight the messages I was hearing. "You're a failure as a mother. You're a teacher for crying out loud and you can't even get your own son to write his name. Look at the other kids-their parents have no background in education and somehow their kids can write their name."
The messages were flying through my head faster than I could catch them, let alone fight them.
"Ok, bud. Let's both take a break. We can come back to this later." I think we both needed a minute to gather ourselves and reset.
Teaching your child to recognize and write their name is one of the most important things you can do to begin to prepare them for kindergarten. I knew this and because of it, I put unnecessary stress on Jacob and me. It was time to try something different.
When should a child be able to write their name?
At some point around the age of 4, your child will start to write their own name. Children all develop at different times, and like any skill, a huge part of the ability to write their name is how much exposure they have had to other developmental skills first.
Before children can write their name, children will go through the developmental stages of drawing, randomly forming lines and scribbles.
They will begin to develop their pincer grasp, although it is not necessary to have a full pincer grasp to be able to write their name.
Why is it important to teach your child to write their name?
There are no requirements for beginning kindergarten, but if your child can recognize and write their name they will have a great advantage.
If a child begins kindergarten without being able to recognize their name, they will not be able to find their locker or cubby, mailbox, folders, name tag, lunch tag, and about 100 other things that are labeled with their name that they will be using throughout the day. This leads to shame and frustration.
There are many skills your child must master before being able to write their name on paper with a pen or pencil. Thes skills are easily incorporated into your daily routine.
Recognizing their Name
The first step to being able to write their name is to recognize their name. Write your child's name in as many places as possible.
Any time you color, write their name on their paper
Use alphabet cookie cutters to serve them their sandwich in the form of their name
Make their name out of playdough or wikki sticks
Write their name on the fridge with fridge magnets
Make a sign for the door to their room
During this phase, your goal is that your child sees their name as many times as possible throughout their day, in as many different forms and places as they can.
Spell Their Name
Before a child can write their name, they must be able to have the correct letter recognition skills and be able to put the letters in the correct order. Luckily there are many fun ways to teach your child to spell their name!
Sing
Music has the amazing ability to teach. Think of all the songs you learned to help you remember things when you were a kid. Books of the Bible, addition tables, multiplication facts, etc., so let's put that to work and sing your child's name. For example, Jacob can be sung to the tune of B-I-N-G-O. I would sing "There is a boy who's very kind, and Jacob is his name-o. J-A-C-O-B…" or you can make up your own tune. How special for your child to have their very own song naming positive characteristics about them and helping them to learn to spell their name.

3 letter names try "Three Blind Mice"
4 letter names try "Are You Sleeping"
5 letter names try "Row Your Boat" or "BINGO"
6 letter names try "Jingle Bells"
7 letter names try "Twinkle, Twinkle Little Star"
8 letter names try "We Wish You a Merry Christmas"
Mix and Fix
Using foam letters during bath time or magnet letters on the fridge, spell your child's name. "Mix and fix!" Put the letters in order, name them while pointing to them, and mix them up. Have your child put them back in the right order and see if they can tell you the letter names and sounds.
Make a name puzzle by writing your child's name on a piece of paper and cutting each letter apart. Mix the letters up and see if they can put them back together.
Using alphabet cookie cutters, cut the letters of your child's name out of a pancake. Mix it up before serving it to them, and they must put the letters in the correct order before eating their pancake.
Sensory Play
As an Amazon Associate, I earn from qualifying purchases at no additional cost to you.
Sensory play is essential for little learners. Children learn best when they use multiple senses to build or manipulate items. Have your child write their name with their finger in as many different things as you can think of. These sensory fillers can be spread in a pencil box or a large baking sheet to keep the mess under control. Have your child use their pointer finger to draw the letters.

Sand
Shaving Cream
Blocks
Legos
Rice
Pudding
Flour
Playdough
Cooked Spaghetti
Finger Paint
Name Sensory Bin- Make a name sensory bin that helps kids practice letter ID, letter sound, my name practice, shapes, colors, sorting, counting, language skills, and spatial awareness while focusing on fine motor skills. It also develops other important skills such as problem-solving, focus, imagination, inquiry, exploration, and emotional strength. Your child will love spelling their name, learning their letters, using the tweezers, dumping, grabbing, and imagining with a personalized name kit!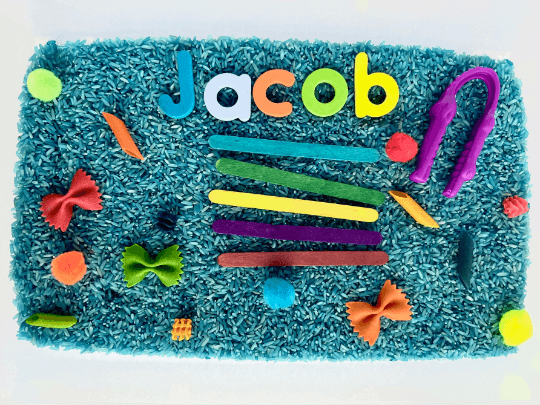 Are you tired of hearing "It's TOO HARD!" followed by a meltdown?
Using this one simple phrase you'll get in this powerful lesson, you'll not only be able to help your kiddo not give up but you'll:
>Activate their superpower of perseverance so that they can turn around a meltdown and keep trying
>Inspire them to use perseverance…even when it's hard
>Teach them to recognize the warning signs of giving up, and how to turn it around by taking control of their choices.
Grab your powerful FREE video lesson to teach your kiddo one of the most powerful keys to perseverance.
Arts & Crafts
Crafts strengthen fine motor skills, are a great teaching tool, and they give your child an opportunity to develop their creativity.
Make a suncatcher. Write your child's name on a coffee filter in a thick permanent marker. Have them watercolor the coffee filter. When it's dry, hang it in the window for all to admire.
Make a name banner. Write each letter in your child's name in bubble letters on their own 3×5 piece of paper and watercolor it. String the letters together to make a banner for their bedroom door.
Decoreate your name. Write your child's name and have them paint it using q-tips. Can you make a pattern with the colors?
Write your child's name in marker and have them cover it with bingo dotters, stamps, or stickers.
Use tearing paper to strengthen fine motor skills. Write your child's name in marker and give them many different colors of scrap paper. Have your child tear little pieces of paper and glue it on their name to cover the lines. Tearing paper is great for strengthening finger muscles and fine motor skills.
Name Games
Hide the letters around your house and have your child go on a scavenger hunt to find them! Can they put them in the correct order?
Can your child find letters in their name in books that you read together?
Write the letters of their name in large letters on your driveway. Call out the letter and have them stand on it. They can also walk along the letters following the correct letter formation path.
Reading
We love finding books that go along with what we are learning. Reading is essential for kids. Psychology Today says "Reading to babies as young as six months of age leads to stronger vocabularies and better early literacy skills four years later."
These books are not just about names, but about self-esteem, uniqueness, and friendship. Everyone is different and you should be proud of who you are! Enjoy reading these books, or find books where the main character shares the same name as your child.
As an Amazon Associate, I earn from qualifying purchases at no additional cost to you.
We would spend a week learning about Chrysanthemum every fall! If you haven't read it, Chrysanthemum is an adorable little mouse who loves her name… until she goes to school. The other kids laugh at it because it is so long. Chrysanthemum learns a valuable lesson in being proud of who she is, and it just happens to tie in very well with learning our name!
After reading Chrysanthemum, tell your child how you chose their name. Is there a special meaning behind it?
I Like Myself! by Karen Beaumont
I Like Myself is a fantastic story that teaches kids to love everything about themselves, even when they are different than everyone else!
Stand Tall, Molly Lou Melon by Patty Lovell
Molly Lou Melon is a girl who looks different, sounds different, and acts differently than everyone else. Thankfully her Grandmother taught her to walk proud, smile big, and sing loudly, and she learns that even though she is different, she is still special and important!
A Porcupine Named Fluffy by Helen Lester
A Porcupine Named Fluffy is a cute story about a Porcupine who doesn't like his name until he meets a special rhinoceros.
I'm Gonna Like Me by Jamie Lee Curtis & Laura Cornell
I'm Gonna Like Me is a wonderful story that encourages kids to like you because you're you.
Air Write
A fun activity for preschoolers is to write in the air. Using their pointer finger as their pen, they hold their arm straight out in front of them and write letters in the air. This is a great way to get their body moving and practice the correct formation of letters.
Develop Fine Motor Skills
Fine motor skills are the skillset that allows you to control the small muscles in your fingers. This allows you to button buttons, zip zippers, and control the pen, pencil, or marker to write your name. Developing these skills takes intentionality, and is becoming increasingly more difficult as technology use in young children rises.
Activities like the crafts listed above, playing with playdough, tearing paper, and any toys that require practice manipulating small objects are good for strengthening fine motor skills.
And Finally, Writing Their Name
After your child can identify the letters in their name and put them in the correct order, it's time to start writing their name.
Before Jacob wrote each letter, we talk about the correct way to form the letter and practiced with his pointer finger. When kids form letters however they want, they build bad habits that are difficult to break later.
The most important part of learning to write their name is to get them excited about writing. Worksheets are not the most exciting activity in the world, so find a way to get your child excited.
Take them to the store and let them pick out some special markers or colored pencils. Let them write with crayons. At first, it doesn't matter what they write with as long as they are excited about learning.
Write your child's name and put it in a page protector or cover it with packing tape and have them trace their name with a dry erase marker. Making it quick and painless like writing their name once a day is a great way to get short, consistent practice in. In a few weeks, you will be amazed at the progress you see!
You can also write their name in a yellow marker and have them trace with a pencil, pen, or crayon.
When first learning to write their name, have your child write their name in all capitals, on primary lined paper. (or KG Primary Dots Lined is my favorite font to use.)
It is important that kids are learning to form their letters correctly, so I add a dot where they start their letters.
Check out our Preschool Alphabet Handwriting Book for practice with correct letter formation.
After they can trace their name in all capitals,have them start writing their name the correct way with a capital letter first, and the rest lowercase letters. Continue having them trace their name until they are comfortable writing it on their own. This will be how they are expected to write their name in kindergarten, but writing their name in all capitals is acceptible in the beginning of kindergarten.
Once your child can trace their name the correct way, start using blank lines. Start with the primary lined paper before finally moving to one line at the bottom.
Most of my kids traced their names for the first semester, so if your child is having some difficulty or if it isn't clicking as fast as you think it should, it's ok! The important thing is that your child has had exposure and practice writing their name the correct way. Just keep practicing, make it fun, and don't put too much pressure on yourself.
---
After lots of practice writing with his finger in rice, making his name out of playdough, and an endless amount of pancakes, Jacob did eventually learn to write his name well. Remember, just make it fun and keep practicing. Oh, and pancakes. Everything is more fun with pancakes.
Want More?
If you liked this, you'll love:
Name Snowman Preschool Craft and 5 Extension Activities to Continue the Learning
13 Genius Dot Sticker Learning Activities That Will Delight Preschoolers
Letter Recognition Activities for Preschoolers
Your Turn
What are your favorite activities to make learning to write your name fun?