Inside: Let's go on a Safari Adventure with these preschool activities that teach letter recognition, counting, and more! Grab your safari hat, binoculars, and safari notebook for your learning adventures!
---
I watched him roam around our backyard in his safari hat looking through his magnifying glass. He was on the hunt. We were working on letters, and the letters were hidden all around him.
"Mommy! I found the a!" He screamed excitedly. He brought it to me and put it with the other letters he found already.
We love getting up and moving to learn. Kids learn best through play, and it doesn't get any more fun than going on your own safari adventure. There are many educational activities you can incorporate into a safari theme.
Safari Activities and Crafts for Preschoolers
Dress the Part
As an Amazon Associate, I earn from qualifying purchases at no additional cost to you.
Going on a safari is always more fun when you dress the part. Grab these safari hats or make your own by cutting a hole in the center of a paper plate, putting it over an upside-down bowl, and painting them tan.
Make binoculars by gluing two toilet paper rolls together and decorating them with black paint. Attach a string to them so they hang around your neck and decorate with paint or safari animal stickers. (If you use stickers, you will likely need to use tape or glue to get them to stick).
Safari Math
There are many fun safari math activities you can do using toy safari animals.
Sort into animals that are the same color, size, short/tall, heavy/light, or even by their diet.
Make a pattern of animals. Giraffe, lion, giraffe, lion. Try an AB pattern, and an ABC pattern.
Practice counting and number recognition. Put 10 animals in a container, have your kiddo take out a handful, and count. They choose the number from a deck of prewritten number cards and label the pile of animals.
Grab some safari stamps or stickers and make a pattern. Start with an AB pattern and then move on to an ABC or an ABB pattern.
Making paper plate snakes is a fun craft you can do by cutting a snake out of a paper plate. Paint it, and add shapes cut out of construction paper to make patterns, practice counting, colors, and more/less. Don't forget googly eyes and a tongue!
Are you tired of hearing "It's TOO HARD!" followed by a meltdown?
Using this one simple phrase you'll get in this powerful lesson, you'll not only be able to help your kiddo not give up but you'll:
>Activate their superpower of perseverance so that they can turn around a meltdown and keep trying
>Inspire them to use perseverance…even when it's hard
>Teach them to recognize the warning signs of giving up, and how to turn it around by taking control of their choices.
Grab your powerful FREE video lesson to teach your kiddo one of the most powerful keys to perseverance.
Alphabet Safari
Our Alphabet Safari is a fun way to master your letters. It takes your child through 5 stages of learning their letters.
The Alphabet Safari takes you through 5 adventures, with 15 expeditions total.
Adventure 1: Focus on the letters in your child's name
Adventure 2: Focus on known letters and vowels
Adventure 3: Focus on known letters and common letters (M, S, P, T, D, R, L, C)
Adventure 4: All letters are known, practice matching uppercase and lowercase letters
Adventure 5: All letters are known: Review!
Using the templates in our Alphabet Safari, color the posters of the letters you are working on.
Rainbow write the alphabet (templates included in the Alphabet Safari).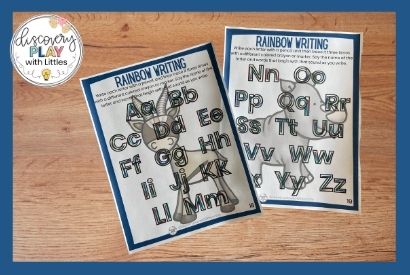 Watercolor the letters in your name, and make a banner to hang outside of your child's room. (Templates included in the Alphabet Safari).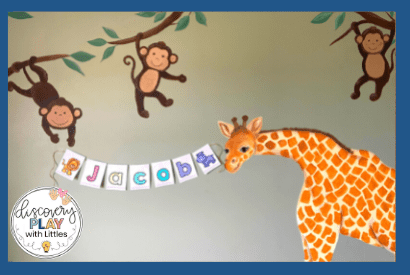 Go on a letter hunt! Hide the letters found in the Alphabet Safari inside or outside, and send your child on an excursion to find them. When they bring the letter to you, they must identify the letter.
Safari Story Time
This is a sweet story about Gerald the tall giraffe, who just doesn't fit in with his jungle animal friends. They all can dance beautifully, and he doesn't think he can. He finally discovers he can dance to his own tune with encouragement from a new friend.
Rumble in the Jungle by Giles Andreae and David Wojtowycz
Rumble in the Jungle is a great book that takes kids on a fun safari adventure to meet different jungle animals. With a fun rhyming text, kids love to discover new facts about different animals.
Over in the Grasslands: On an African Savanna by Marianne Berkes, Jill Dubin
This is a fun rhyming story that teaches counting and number recognition. It can be sung to the tune of "Over in the Meadow" and introduces young children to African animals, counting, and number recognition. It also includes a map of the continent of Africa and information about the animals found in the grasslands.
Dramatic Play Adventures Preschoolers Love
Pretend play is essential for kids' development. Develop your kids' imaginations and invite your little explorers on a safari. Grab your safari hat, binoculars, and vest to be ready for your adventure. Look at animals through your binoculars, sit in a jeep (made out of a cardboard box), and imagine what you would see on the African Safari. Grab your favorite stuffed animals you may see on a safari to decorate your savannah.
Safari Large Motor Games for Preschoolers
Make a game out of these movements that encourage gross motor development by pathways.org. Have kids stand in a line and when you call out an animal, they must start to move like that animal. You can also make cards with these animals on them. Each child gets a turn to come up, pick a card and act like that animal.
Go on a lion hunt! Pick one child to be the lion and have them hide. Everyone else needs to grab their binoculars and sneak around the room until you see the lion. Once you spot him, run back to the safe space without being tagged. The child who gets tagged is the next lion.
A great way to review while getting kids up and moving is to make large paw prints out of different colored construction paper. On each paw, write a number or letter (you will want several paw prints with the same number/letters if you are playing with a group of kids). Spread your paw prints throughout the room on the floor. Call out a color, number, or letter. Each child has to find a paw print with that attribute and stand on it (or put one foot on it if they are sharing the paw.)
Fine Motor Skills Development
Color or paint the letter posters in our Alphabet Safari.
Make a banner by decorating the letters in your name and stringing them together (templates included in the Alphabet Safari)
This safari board game takes preschoolers on a fun adventure that helps them practice taking turns, learning facts about different animals, and developing hand-eye coordination
Make snakes by cutting straws into 1″ pieces. String pieces of straws together to make your snake. You can make a color pattern too!
Safari Crafts
These easy animal crafts will get your little explorers excited about your jungle safari!
Safari Snacks
Animal crackers are always a hit. Kids love pretending the animals are alive and making animal sounds.
Animal Cookies: Using these cookie cutters, make sugar cookies. For added fun, and a little mess, invite kids to decorate their favorite animal with icing.
Get the Printables
Don't forget to grab your Alphabet Safari!
Easy to Prep Activities: Print and go activities are the perfect activity to keep your child interested, excited about learning, and strengthening their fine motor skills, while all the templates are organized for you and ready for you to dive in.
As an educator, I know the more senses you use to learn, the better you will remember the content. No worksheets here! We focus on getting our body moving, touching, and manipulating the letters in an exciting way so we will make learning fun- and learn it for good!
We learn best through play. Who looks forward to sitting at the kitchen table reviewing flashcards? (or better yet completing worksheets?) NOBODY. In this Safari Pack, your child will experience 15 excursions that will get them up and moving… and actually excited about learning.
We know we learn best when it is meaningful. Rather than worksheets, this Safari Pack focuses on activities kids can connect with their life experiences. Starting with the letters in their name, and using their environment (and people they love) this adventure makes learning exciting and memorable.
The Alphabet Safari Includes:
15 Alphabet Safari Expeditions that utilize the items already found around your home. Print-and-go activities for hands-on learning are organized at your fingertips.
A Must-Read Alphabet Book List to integrate your learning into your daily routine
Learned Alphabet Letter Tracker to boost your child's confidence as they track their progress
Letter Cards and Templates to use in games and activities
Rainbow Writing Pages that are fun and great practice for fine motor skills
Coloring Pages for each letter also make great posters to reinforce learning
Letter ID Assessments help you know if your child really knows the alphabet, and have confidence that you are focusing on the right letters
---
Jacob was able to master his letters in no time at all. He loved the activities from our Alphabet Safari, and kids learn best when they are engaged and learning is meaningful. Making your African Safari unit is simple to do, and it's exciting to meet the creatures of the wild jungle…even when they are the creatures that live with you.
Want More?
If you liked this, you'll love:
5 Genius Ways to Teach the Alphabet with the Alphabet Chart
13 Genius Dot Stickers Learning Activities that Will Delight Preschoolers
9 Genius Tricks that Help Teach Your Child to Write Their Name
Your Turn
What are your favorite safari activities for preschoolers?