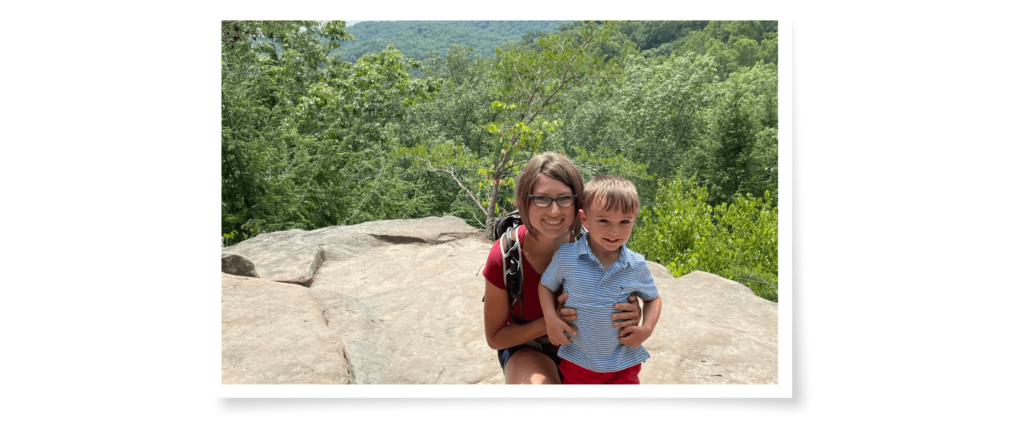 Hey there! My name is Elizabeth, I'm the author behind Discovery Play with Littles. I am a wife to an amazing husband, a mother to Jacob and Caleb, and an elementary school teacher. I've spent time teaching 1st grade, 2nd grade, and most recently kindergarten. 
During my time teaching kindergarten, I have seen countless kiddos come in unprepared for the wonderful world of kindergarten. Some have extremely low fine motor skills, very little academic background, and some come in not even being able to recognize their name.
Most of the students I've had have been exposed to at least one year of preschool, with good home lives and involved parents. I'm tired of watching kids struggle!
Most parents just don't know what kindergarten involves these days. They either think to prepare their child they need to sit at the kitchen table doing worksheets or spend hours finding and preparing expensive activities to do with their kids.
There's an easier way, and I'm here to help.
I'm here to help you create learning in life's little moments. You can fully prepare your child for kindergarten through small tweaks to your daily routine.
Let's make activities you are already doing like cooking dinner, and giving baths so fun your child won't even know they are learning.
No hours searching Pinterest for the best activities. Not spending hundreds of dollars on materials for activities. And definitely NOT spending hours at the table doing worksheets.
Kids learn best through play. Let's do that.
My passion is to equip you to help your child grow academically, socially, and emotionally. I'm here to help parents teach their children and not only prepare them for preschool and kindergarten but also to teach them life skills such as honesty, responsibility, kindness, and integrity.
When you and I were in kindergarten, we learned through play. We went to school for half a day, and that included a snack and a nap. We left kindergarten knowing our letters, writing our names, and reciting our colors.
Today, by the end of kindergarten, kids leave my classroom writing 3-page narrative stories, 5-page research books (yes, really!), reading at a level C/D, adding and subtracting, and counting to 100!
Kindergarten is what used to be first grade. Most parents don't have any idea what will be required of their child and how much kindergarten has changed. If a child starts unprepared for kindergarten, they get behind and become frustrated, and learning stops being fun.
Let's take a different approach. I'd love to join you on your journey and help you give your child the preparation needed to be successful for kindergarten and to fall in love with learning.
Let me help you make teaching your child simple and fun!
Let's be Friends!
Get my weekly messages in your inbox or find me on Facebook, Instagram, or Pinterest. You can also drop me a line here.