Inside: Looking for the best ideas for all about me activities? Check out our favorite ways to help your little learners explore what makes them unique and special, all while learning about their friends and building strong relationships.
---
I looked around my classroom. There were 20 brand new faces, most of who didn't know anyone there. How was I going to build a strong classroom community, teach them to be kind and accepting of others, and show each child how unique and special they are?
All about me activities are great to do at the beginning of the school year. These activities are an engaging way to give kids opportunities to explore who they are and what makes them unique, all while having fun. This is also a great way for kids to get to know each other and build a strong classroom community.
What Are All About Me Activities?
All about me activities help preschoolers explore traits that make them unique. These activities include physical aspects such as hair color, height, and eye color, but also how many people are in your family, what sports or activities you like to play, and your favorite foods and colors.
Why Are All About Me Activities Important?
When used in a classroom, all about me activities can help kids get to know one another and build relationships. All about me activities are typically used at the beginning of the year, and help kids get to know others' similarities and differences. This helps develop kindness, empathy, respect, self-esteem and helps kids discover their own uniqueness.
Always Start with a Good Book
As an Amazon Associate, I earn from qualifying purchases at no additional cost to you.
I Like Myself by Karen Beaumont
This is the perfect book to teach kids to love everything about themselves, inside and out. This also leads to appreciating others who are different from you.
Chrysanthemum is one of our favorite books. A little mouse, Chrysanthemum, loves her name…until she goes to school. The other kids make fun of how long her name is, but in the end, Chrysanthemum learns it's not important how long your name is, but how kind you are to others. This book helps kids learn about self-esteem and kindness.
Wild About Us by Karen Beaumont
This funny book celebrates the differences between all the animals and discovers what makes each animal unique. This is a great book for celebrating how we are different and what makes us special.
It's Okay to Be Different by Todd Parr
This is a simple and to-the-point book- it's ok to be different. This book lists all the ways we can be different and will help children understand that even though we are different, we are all special and important.
There's only one you in the great big world. Adri's mom and dad share their wisdom with him as he prepares to enter the great big world. Their wisdom encourages Adri to explore, be kind, and remember how special and unique you are.
What I like About Me! A Book About Celebrating Differences by Allia Zobel Nolan
The kids in this book are different, that's for sure…but they love it. They celebrate their differences and that also leads to lessons in self-esteem and loving others for who they are.
Marvelous Me by Lisa Marie Bullard
Marvelous me celebrates the things that make each person unique and teaches that everyone is one of a kind, but that's what makes us special.
Are you tired of hearing "It's TOO HARD!" followed by a meltdown?
Using this one simple phrase you'll get in this powerful lesson, you'll not only be able to help your kiddo not give up but you'll:
>Activate their superpower of perseverance so that they can turn around a meltdown and keep trying
>Inspire them to use perseverance…even when it's hard
>Teach them to recognize the warning signs of giving up, and how to turn it around by taking control of their choices.
Grab your powerful FREE video lesson to teach your kiddo one of the most powerful keys to perseverance.
Our Favorite, Simple All About Me Activities
Create an "All About Me" Poster
This is the most popular All About Me activity, and it's perfect for younger kids who are just starting to learn about themselves. They can include their name, age, where they live, what their favorite color is, and anything else that they want to share. Tracing their hand, foot, and adding a fingerprint will make this a great memento for Mom and Dad. This is a great way for kids to have a physical representation of all the things that make them unique. Preschool Inspirations has our favorite All About Me Poster for free!
Make a "Selfie"
One of the easiest all about me activities is to have kids make a selfie. You will need construction paper, markers, yarn, and stickers. Start with a blank template of a body. Children can color, paint, or decorate it to make the template look like themselves. This activity will get kids to explore their physical traits as they create pictures that look like themselves.
Create Superhero Selfies!
Another all about me activity that's super simple; have your kids turn themselves into superheroes! Have your kids decide what their superpower is. Kindness? Reading? Courage? You can either take pictures of your kids and have them cut out their heads (just above the shoulders) to glue on their paper or have them draw themselves. Next, they will decorate the picture to make it look like themselves and create their own superhero costume.
My Special Talents
Kids love to find out what they are good at! This all about me activity is perfect for this because it will give you both insight into your child's strengths as well as their passions. Have your child do a variety of tasks (like drawing, writing, singing, etc.) and then have them choose the ones they think they are best at. You can also ask them what they love doing the most and see if there is any correlation between what they are good at and what they love to do. They can draw a picture of themselves doing those activities. This is also a great way to practice drawing people and including the necessary body parts!
Make a "What I Like to Do" Booklet
This all about me activity is perfect for introducing the idea of writing or drawing books! You can either make this into a book that you create together or have your child do it independently. Either way, all you need are small pieces of construction paper and markers, crayons, or colored pencils. Have your child write or draw all the things he likes to do on each piece of construction paper and then all you have to do is bind them together.
Make a "My Family" Book
This all about me activity is perfect for little ones who love spending time with their family. Have them make a book all about the people and pets in their family. They can include photos, drawings of all the members of their family, and you can help them label with names or write out bios about each person. This is a great way for kids to learn more about their family history and who they come from.
Picture Puzzle on Duplos
Puzzles are great for kids, and this is a simple way for them to practice putting pictures of themselves together. You can do this by building a tower of duplo blocks and printing a picture of your child. Mark on the picture where the blocks come together and cut your picture. Tape each section of the picture to the duplos. Show your child the pieces and have them put the picture of themself together again and again!
Life-Sized Body Tracing Activity
I made a life-size poster of me in preschool. My dad hung it up in his shop and I'm pretty sure it's still there. The teachers had us lay down on giant pieces of poster board and they traced us. We then used old wallpaper to make our clothes, yarn to make our hair, and drew our faces, jewelry, hats, etc. with markers. Parents love life-size pictures of their kids!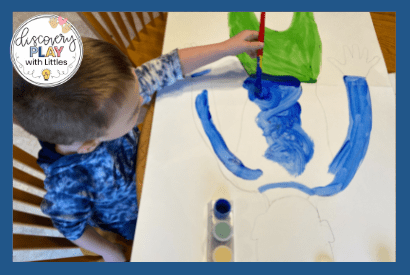 We also love to use tearing paper activities whenever we can. Tearing paper is a great fine motor activity that is fun for kids and strengthens the muscles in little fingers. We used torn paper to make a pattern on his shirt.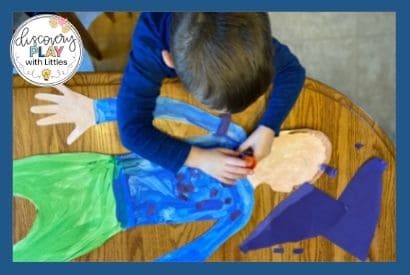 All About Me Caterpillar
This is a great activity and easy to spread out over several days. On each circle have your child draw one fact about themselves. You can include favorite color, food, book, family members, how old they are, self-portrait, etc. To spread this out over several days, have each child do one circle a day. For the caterpillar's head, you can draw a smiley face or take a picture and put the child's face on the head. At the end, glue them together and you have an All About Me Caterpillar!
Play-doh Sensory Self Portrait
This is the perfect activity that leads children from drawing a circle with arms and legs to a person with all the essential body parts. Before making your self-portrait, look in the mirror and review body parts. Hair, head, face, ears, neck, body, arms, legs, hands, feet. Using skin color play-doh, help your child make their body. You can use pipe-cleaners for their arms and legs. Add yarn for hair, googly eyes, buttons for ears and nose, and play-doh or pony-beads for lips. Your child will have fun creating themselves out of play-doh!
Along with All About Me, We Also Teach
Name Recognition
A big part of all about me is learning to spell and write their name. Here are our favorite name recognition activities. You can also write your child's name on a piece of paper, put it in a page protector, and have them make the letters with play-doh. Write their name in bubble letters and have them watercolor or decorate their name. The more they see their name the more familiar they will be with it.
Emotions
Another essential part of learning all about me is learning about our emotions. When we learn about emotions, we know these big feelings we are experiencing are normal, and they aren't so scary. Learning about emotions will equip children to better handle these feelings.
Some of our favorite books to read are:
A Little Spot of Emotion by Diane Alber
We love the Little Spot books. They are relatable to kids and teach important life skills. This box set will teach about anger, happiness, sadness, anxiety, confidence, love, peacefulness, and a little scribble spot (teaching about all of the emotions).
I'm Happy Sad Today by Lory Britain Ph.D.
We read this book over and over to understand how we can feel two different emotions at the same time. This book teaches that you don't have to choose just one feeling. This is normal and ok to feel how you feel!
MySELF Feelings and Cooperation
We enjoy these simple books that teach about feelings and emotions in a relatable way for your little learners. They learn self-control, problem-solving, and all about emotions with these easy-to-understand books.
You can also hold pictures of faces and decide how that person is feeling. Throughout our day when we are reading books, we talk about how the characters feel and why.
---
These all about me activities are a great way for kids to learn more about themselves, their family, and their dreams. They can be done alone or with friends and siblings, making them perfect for any preschooler who wants to explore what makes them special and unique.
Want More?
If you liked this, you'll love:
13 Genius Dot Sticker Learning Activities That Will Delight Preschoolers
9 Activities to Teach Social Skills That You Will Actually Enjoy
Tearing Paper Activities: Strengthening Fine Motor Skills
Your Turn
What is your favorite all about me activity?