Sensory bins are amazing toys for young children! Not only do they capture the child's interest much longer than many other toys, but they provide great learning experiences by teaching many important skills. There are so many options when it comes to sensory bins, you may be looking for sensory bin ideas (without the overwhelm of thousands of sensory bin ideas you may find on the internet).
Simply put, a sensory bin is a hands-on learning experience for kids. Usually stored in a container, a sensory bin can be made around a theme, academic concept, or just your child's favorite toys. A sensory bin includes a filler, a fine motor tool, and toys. They are simple to make and kids love them.
What age are sensory bins for?
Sensory bins are great for children of all ages. For the first year, start with sensory bottles or sensory bags. About 22 months, you can introduce a sensory bin, but it is important to be thoughtful about what you put in the sensory bin, and staying close by and monitoring during play is important.
Another great thing about sensory bins is that they hold your child's interest for years. Even if you make a sensory bin for your toddler, it will be well used for years to come! As your child learns new concepts and skills, they will find new ways to play with their sensory bin. Even though it is the same bin with the same materials, they will find new ways to play with it as they learn and grow.
The benefits of sensory play
Not only is a sensory bin open-ended play that can keep children interested much longer than other toys, but there are many other benefits as well.
Children practice their language skills by learning to describe what they are playing with, or how they are playing. New vocabulary is often introduced as kids play with new and interesting items.
Depending on the sensory bin, academic skills are often introduced. Kids will naturally count and find patterns in play. Some bins even can introduce measuring, letters, shapes, colors, numbers, and even name recognition.
Fine motor skills are so important, as kids learn to manipulate small objects. Sensory bins encourage scooping, dumping, squeezing, and pinching.
Another important part of sensory bins are the social skills kids practice. Sharing, communicating, imagination, problem-solving, and creativity are all used when playing with a sensory bin.
Are you tired of hearing "It's TOO HARD!" followed by a meltdown?
Using this one simple phrase you'll get in this powerful lesson, you'll not only be able to help your kiddo not give up but you'll:
>Activate their superpower of perseverance so that they can turn around a meltdown and keep trying
>Inspire them to use perseverance…even when it's hard
>Teach them to recognize the warning signs of giving up, and how to turn it around by taking control of their choices.
Grab your powerful FREE video lesson to teach your kiddo one of the most powerful keys to perseverance.
What can I put in a sensory bin?
There's an endless number of fillers you can put in your sensory bins. After you create your first one you will find yourself looking at random things throughout your day thinking "This would make a great filler in a sensory bin!" Basically, you are looking for anything your child can explore and manipulate that is safe for them and will stimulate their senses.
How to make a sensory bin
Sensory bins are really simple and fun to put together when you know what to look for. There are so many different options to pick from, you are sure to find the perfect theme for your kiddo!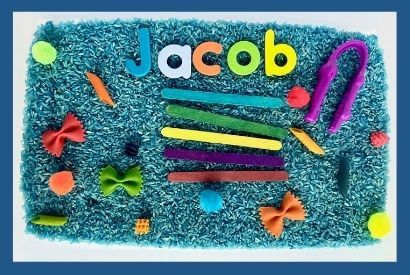 As an Amazon Associate, I earn from qualifying purchases at no additional cost to you.
Decide on a theme. Many sensory bins are made around a child's interests, such as construction or unicorns. I love to make sensory bins around an academic skill we are working on while incorporating some toys that align with their interests. Some popular ideas include:

Construction
Unicorns
Beach
Dinosaur
Ocean
Farm
Baking/Birthday
Rainbow
Holiday
Car Wash
Alphabet
Name Recognition
Counting
Number Recognition
Rhyming
Shapes
Colors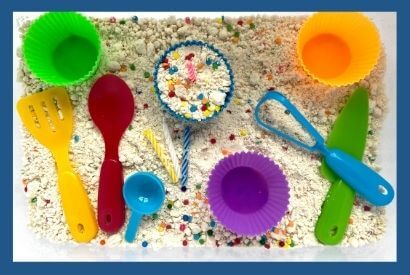 Think about your filler. A filler is anything that will stimulate their senses. Some popular choices include:

Dyed rice
Flour
Cloud Dough
Cut up straws
Sand
Cornmeal
Water
Bottle Caps
Crinkled Paper
Pasta
Cooked Spaghetti
Yarn
Split Peas
Chickpeas
Oats
Jello
Shaving Cream
Black Beans
Sunflower Seeds or Birdseed
Pom Poms
Beads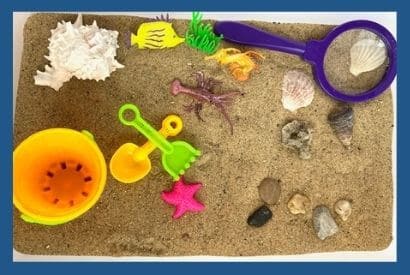 Choose your fine motor tool. A great benefit of sensory bins is all of the fine motor practice they provide! To capitalize on this opportunity, we love to include fine motor tools to encourage pinching, squeezing, scooping, and dumping. These are all activities that strengthen muscles in little fingers.
Gather the toys. If you are creating a sensory bin around your child's interests, it is likely you will have some toys you can use already laying around your house! If you don't have toys to fit your theme handy, the dollar store is a great place to find inexpensive toys that fit your theme.
A few tips to make sensory bin time successful:
Discuss your expectations ahead of time. All fillers and toys stay in the bin, we don't throw things, and do some teaching about how to correctly use your fine motor tool if your child doesn't have any experience with it yet. If your child doesn't follow your expectations, put the bin up and try again later. This isn't a punishment but helps you set clear expectations.
Lay a sheet on the floor and have your child play on the floor, in the bathtub, or outside. This will make clean up a breeze.
Play with your child, but let your child lead the way! Children spend so much of their time being told what to do, even how to play. Unstructured time allows them to build important skills such as curiosity, imagination, and problem-solving.
Read books to go along with our sensory bins. If our theme is dinosaurs, we will read dinosaur books. If our bin is created around letter recognition, we may read some alphabet books. Reading books to supplement our explorations always makes it more fun!
Have Fun!
Sensory bins are fun to make once you decide on your theme. After it's made, you will even have a difficult time keeping your hands out of it. I hope you found a few sensory bin ideas that you are excited to try with your kiddo. Comment below to let me know what sensory bin you tried, and how it went!
You Might Also Enjoy
The Importance of Fine Motor Skills
Activities to Effortlessly Teach Your Toddler Shapes