Inside: Wanting to teach shapes but not sure where to start? Check out our favorite shape activities for toddlers and preschoolers at home.
---
"I found it!" Jacob half-screamed as he beamed and brought me the square. We've been working on our basic shapes for the past couple of weeks and he was doing really well.
He loved all of our simple activities, but the shape scavenger hunt was his favorite.
What age should a child know shapes?
Begin teaching shapes to your toddler around 2, and by 3 they should know the basic 2D shapes: square, rectangle, circle, and triangle.
Sitting your toddler down and trying to get them to focus on flashcards and worksheets will not only end up in frustration for him but for you too! Young kids learn best through hands-on activities, they are more interested and engaged when they can explore shapes for themselves.
Why Teaching Shapes is Important
Recognizing shapes is a foundational skill toddlers need to learn, and lends itself to developing other skills. Shape identification is the first step to developing other academic skills such as pre-reading skills, pre-writing skills, sorting, comparing, and it also introduces them to more descriptive vocabulary.
How Do I Start Teaching my Toddler Shapes?
Little learners learn best with hands-on activities. Skip the worksheets and flashcards, but using different sizes of real objects that you already have at home is a great way to start introducing your child to shapes.
Are you tired of hearing "It's TOO HARD!" followed by a meltdown?
Using this one simple phrase you'll get in this powerful lesson, you'll not only be able to help your kiddo not give up but you'll:
>Activate their superpower of perseverance so that they can turn around a meltdown and keep trying
>Inspire them to use perseverance…even when it's hard
>Teach them to recognize the warning signs of giving up, and how to turn it around by taking control of their choices.
Grab your powerful FREE video lesson to teach your kiddo one of the most powerful keys to perseverance.
How Do You Make Learning Shapes Activities Simple and Fun for Toddlers?
Make Learning Shapes Part of Your Everyday Life
Pancakes– We love "pancake Saturdays". When we started working on shapes, I made pancakes into the shape we were focusing on.

We started with a triangle, so I made his pancake in the shape of a triangle. We talked about the shape I was making, and then I cut it up in little triangles before he would eat so he saw triangles the whole time he was eating.
Once he learned several shapes, I surprised him with what shape I was making. After he got to know shapes really well, I let him pick what shape he wanted that day.
Posters– This is a simple way to get really familiar with shape names. Once Jacob knew more than one shape, we hung shape posters of the shapes he knew around the house. One shape was on the fridge, his bedroom door, the bathroom mirror, and the garage door. As we would get to that spot during our day, he would have to tell me the shape he saw. 

This was a quick, fun game that was scattered throughout our day. Whenever we would go into his room, he would identify the shape on his door. Every time he wanted a drink, he would identify a shape. When we would brush teeth or wash hands, there was a shape.
Remember to rotate the shapes at least once a week or toddlers will quickly learn that the fridge is "circle." 
Have your child color and decorate the shape posters included in the Free Little Learners Activity Pack below.
Bathtime– Bathtime is a great time to teach new concepts because you have the advantage of having a captive audience. Use bath crayons to draw shapes on the bath, and have your toddler point to the shape when you call out the name. It's even more fun if you have an eyedropper they can use to squirt water on the shape.
As an Amazon Associate, I earn from qualifying purchases at no additional cost to you.
Road signs– As you drive down the road have your child look for shapes. Road signs are a perfect example, but they may even be able to spot different shapes on buildings. They might see a clock that is a circle, a house that has a square on it, or a bale of hay that is a rectangle. 
Signs at restaurants– When we were first learning shapes we went to Jimmy Johns. Their walls are plastered with funny signs. Jacob's mind was blown. He first spotted a circle, and as the list of shapes he recognized grew, his excitement grew along with it. It was so fun to see him applying in real life what we were learning at home. He was ecstatic.
Shape hunt around the neighborhood– Go on a walk around the neighborhood. Have your child be on the lookout for shapes, you will be surprised how many you find. A circle in a trampoline, a square on a house, a diamond for a birdhouse. Keep track of how many you find and on your next walk, try to get more! 
I spy– I spy is a game we typically use colors for, but this time use shapes. "I spy a rectangle." This gets your child looking around your room, searching for different shapes.
Read shape books– My toddler learned the star shape because it was in one of his favorite books. He analyzed the pictures every time, and once I gave him the vocabulary ("star") for what he was seeing, he loved to pick it out every time. Reading is important, and when you read about what you are learning about it makes learning more meaningful.
Check out our favorite Shape Books.
Fun Shape Activities for Toddlers
These shape activities are a great way to make learning simple and fun.
As an Amazon Associate, I earn from qualifying purchases at no additional cost to you.
Driveway shapes– Draw shapes on your driveway with sidewalk chalk. Call out a shape, and a way to travel. Your child can run, hop, frog jump, gallop, skip, walk backward, etc. to the shape that you call out. In the winter, you can make shapes on your floor with blue painter's tape or make shapes out of paper to lay on the floor to make it reusable. This is a great activity to get some energy out.
Dot the shapes– In the Free Little Learners Activity Pack below, have your child trace or use bingo dotters along the edge of the shapes.
Shape sorting– Sort shape buttons or pattern blocks according to shape, color, or let your child pick how to sort. They may come up with something you haven't thought of.
Shape search– Print the shape search shapes in the free Little Learners Activity Pack on cardstock and cut them out. Hide them in a bin filled with rice, salt, cornmeal, beans, etc., and have your child sift through the bin to find the shapes. You could also use shape buttons, or any shapes you have around the house for this.
Playdough Mats– In the free Little Learners Activity Pack, print the play-doh mats and put them in a page protector or laminate them. Have your child fill the shapes with play-doh, outline the shapes, or just decorate them.
Shape pictures– Using shape buttons, shapes you've cut out from the packet, or any shapes you have around the house, have your child put different shapes together to make a picture. How many unique pictures can you make? For example, for a house, you could use squares, triangles, and rectangles.
Games That Teach Shapes for Toddlers
Playing games is great for kids. Games teach process, imagination, exploration, and problem-solving. Not to mention the social skills of working together, turn-taking, and being kind.
Below are some different shape puzzles that will help your child learn not only their shapes but the different characteristics of shapes.
While playing with these, you can begin to teach them how to compare, the number of sides, number of corners, colors, and more/less (sides, corners). You can also use the shapes in these puzzles for many of the activities above.
As an Amazon Associate, I earn from qualifying purchases at no additional cost to you.
This shape sorter builds early shape and color recognition skills.
This shape sorting cube encourages the development of problem-solving, color and shape recognition.
Melissa and Doug Pattern Blocks help kids to recognize shapes and also develop spatial awareness, problem-solving, color recognition, and hand/eye coordination.
Snug as a Bug in a Rug is a fan favorite of preschoolers. In this game, you have to rescue all of the bugs before the stinkbugs make it on the rug. During your rescue, you will practice counting, colors, and shapes.
Fun Preschool Shape Activities
Preschoolers love shape activities, even if they've already mastered their shapes. A strong foundation of shape recognition will benefit your child as they grow and begin to learn letters and write. These activities are also simple ways to develop imagination, problem solving, creativity, and fine motor skills!
Geoboards: Geoboards are so much fun for little learners! They love making various shapes with rubber bands. Can they make a specific shape you name? Can they make a picture of several shapes and identify the shapes after they are done?
Shape Monster: Using paper plates, cut out each shape. Using construction paper, pipe cleaners, googly eyes, scrapbook paper, watercolors, etc., decorate it to turn the shape into your monster. Maybe your shape monster has four arms or three eyes. Maybe his mouth is on the side of his head and his eyes are on the bottom. This is a fun way to use creativity, problem-solving, and fine motor skills all while learning shapes. There are also shape monster templates included in our Shape of the Week Curriculum below.
Shape Scavenger Hunt: This is an easy way to learn shapes. Ask your child to find a shape around your house. How many squares can they find? Rectangles? They will love the variety of shapes they find in their own space, and kids feel proud when they can learn to identify shapes correctly.
Cut Shapes: Draw shapes of different sizes on a piece of paper. Have your child practice cutting them out. This is a great way to work on scissor skills and strengthen fingers in little hands while learning the names of shapes. Templates are also included in our Shape of the Week Curriculum.
Shape Monster Sensory Bin: Toddlers and preschoolers love sensory bins. Your little learners will love playing with the water beads, pattern blocks, pipe cleaners, and googly eyes that make up this fun shape monster sensory bin.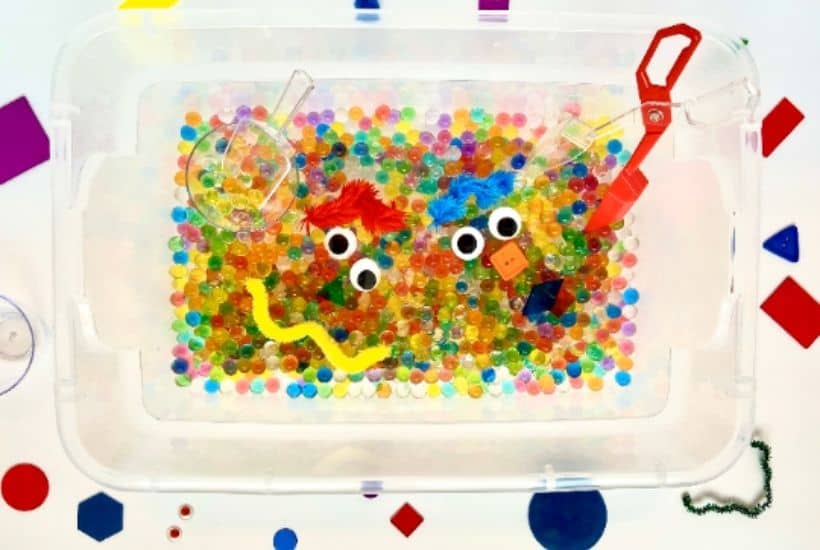 Shape Pictures: Cut different sizes of every shape. What pictures can you make with the shapes? Have popsicle sticks, googly eyes, pipe cleaners, and pom-poms available to your child to add to their picture as well.
Kinetic Sand is a great sensory play activity for little hands. Can they use a sand mold to make the different shapes? Can they draw the shapes with their finger or a popsicle stick?
Shape of the Week Curriculum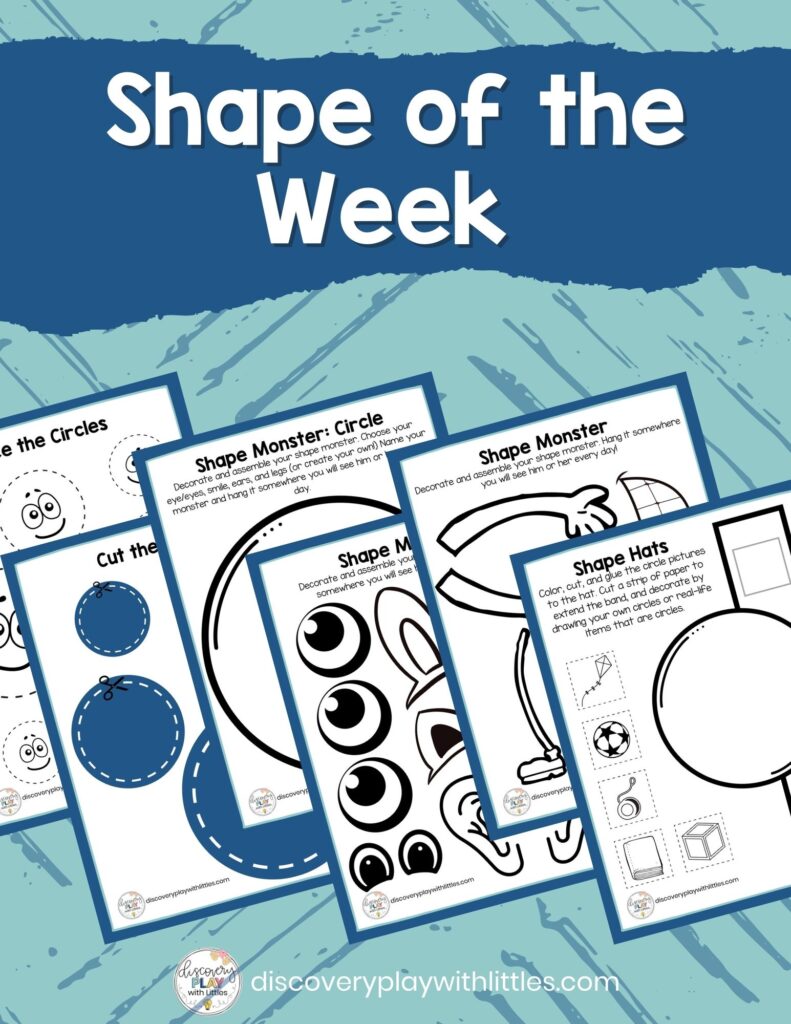 Our favorite shape activities are included in our Shape of the Week Curriculum. This curriculum has 7 activities for each shape: Squares, Triangles, Rectangles, Circles, Ovals, Pentagons, Hearts, Stars, and Hexagons. This print-and-go style curriculum will have your little learner begging to do more activities. They will love using their creativity to master their shapes, while you can feel confident because the activities are ready to go, and you know they are not only learning their shapes, but also strengthening their fine motor skills, using creativity, and loving every minute!
Have fun with shapes!
Learning shapes is simple and fun, especially because it is so easy to integrate into your daily routine. Grab our Shape of the Week Curriculum for more fun with shapes!
You Might Also Enjoy:
Tracing Shapes | Why It's Important and How to Practice
The Best Shapes Books for Preschoolers
Activities for Teaching Your Toddler Colors
Your Turn
What are your favorite shape activities?