Inside: Looking for some activities to teach your child social skills that you will actually enjoy? After reading this post, you will have 9 simple and fun activities your whole family will love that will also help your kids practice social skills.
---
"THAT'S NOT HOW YOU PLAY!" My son screamed at me while snatching the car out of my hand and stomping his foot.
Oh boy. Here we go. Again.
I was exhausted. Why does playing have to be so difficult? If this is how he plays with me, how does he play with his friends?
The messages I was hearing were flying at me faster than I could sort through them.
You're failing. Why can't you teach your kid to be kind? You're doing everything wrong, he's going to grow up to be the kid that nobody wants to play with.
As soon as I was able to fight off the messages of failure I was hearing (because I'm not failing…he's 3 and this is a part of development…) I was able to see that all we needed was a little practice with social skills. Easy peasy. Now…how do we do that?
What are Social Skills?
Social skills are skills we use to interact and communicate with others. In every part of our lives, we have relationships with others, and healthy relationships contribute to our overall success and happiness.
Some social skills that contribute to healthy relationships are:
Sharing
Teamwork
Following Directions
Personal Space
Problem-solving
What the Research Says about Social Skills
Social skills are important for preschoolers to practice and they allow kids to build healthy relationships throughout their entire life.
Research shows that kids with strong social skills are happier, less stressed, and better behaved than those who struggle socially. This makes sense, kids who struggle to communicate are more likely to experience stress and anxiety.
Research also shows that kids who have stronger social skills in kindergarten are more likely to pursue higher education and have a full-time job by the time they are 25 than those who struggle.
Are you tired of hearing "It's TOO HARD!" followed by a meltdown?
Using this one simple phrase you'll get in this powerful lesson, you'll not only be able to help your kiddo not give up but you'll:
>Activate their superpower of perseverance so that they can turn around a meltdown and keep trying
>Inspire them to use perseverance…even when it's hard
>Teach them to recognize the warning signs of giving up, and how to turn it around by taking control of their choices.
Grab your powerful FREE video lesson to teach your kiddo one of the most powerful keys to perseverance.
What Social Skills to Expect at Each Age
Is this amount of frustration developmentally appropriate for this age? When should Jacob learn empathy? I always struggle with questions about appropriate expectations.
It's so hard to know what's a gap in learning, and what isn't developmentally appropriate yet. Clearly teaching a 4-month-old to share isn't developmentally appropriate, but what age is?
Here's a timeline that will help you know what to expect when.
12 Months
Interact with caregivers, hand toys back and forth
Play pattycake, peekaboo
Shows affection
Waves goodbye
18 Months
Start pretend play
Have more temper tantrums
Becomes more interested in kids around them, but still parallel playing
2 Years
Likes people
May take turns
Has difficulty sharing toys or attention
Enjoys dramatic play
3 Years
Pretend plays
Shows a wider range of emotions
May still have temper tantrums
Can separate from caregivers more easily
Becomes more interested in playing with other children
4 Years
Often strong-willed
Enjoys friends and playing in a group
Understands turn-taking and sharing
Enjoys dramatic play
Uses manners
Shows empathy
5 Years
Tests boundaries
Enjoys playing with other children
Enjoys competitive games
Shows empathy
Understands the need for rules and to play fair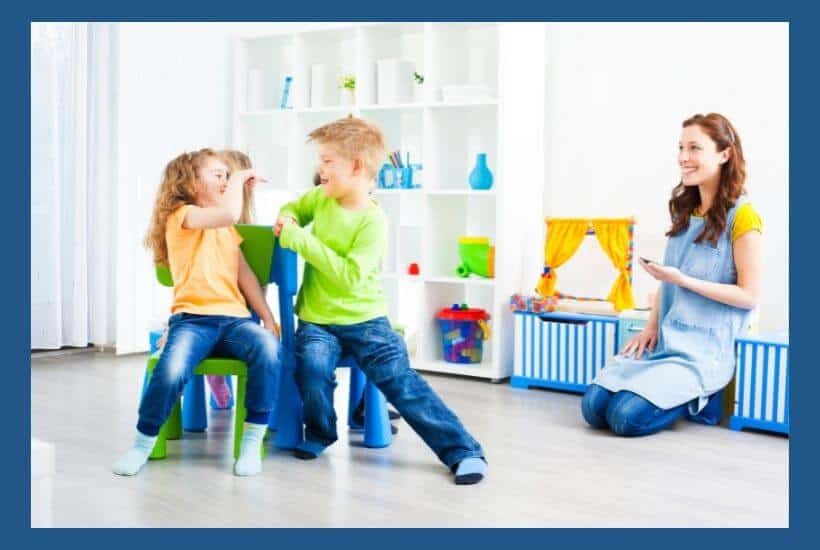 These Important Social Skills are Learned Best Through This
We know that kids learn best through play, but play is not only good for academic learning but also for social development. When kids play, they have endless opportunities to practice social skills and learn from their friends. They often practice:
Taking turns
Problem-solving
Empathy
Patience
Sharing
Personal space
Social Skills Activities for Preschoolers
Some of my favorite activities that I've used in my classroom and with my own boys to help them practice social skills are simple, quick, and easy to do.
As an Amazon Associate, I earn from qualifying purchases at no additional cost to you.
1. Social stories
Social stories are great for kids because they can think about the problem when emotions are calm. Eventually, they will encounter the problem, or a similar situation, and already have a plan on how to handle it. Tell your child stories about different things that may make them upset or be difficult to handle, and help them think through what an appropriate reaction might be.
2. Games that reward self-control and taking-turns
Any games that require children to take turns are great for practicing self-control. Games like red light, green light, or Simon Says that require (and reward) self-control are a great way for kids to practice. If they are able to practice in a game environment where they can be successful, they will feel proud and want to use their new skills more often. Win-win!
3. Name games
Name games are a great way to break the ice with a new group of kids. You can play "Who stole the cookies from the cookie jar" by writing kids' names on pretend cookies and putting them in a container. When you pull out a name, everyone looks at that person and says "Who stole the cookie from the cookie jar?" "Tommy stole the cookie from the cookie jar!" Willoughby Wallaby Woo is also a fun game kids love. Here are more name games.
4. Sensory bins
Sensory bins are amazing toys for many reasons. Not only do they keep kids' attention longer, but they teach many academic skills as well as problem-solving, fine motor skills, imagination, communication/language, and patience.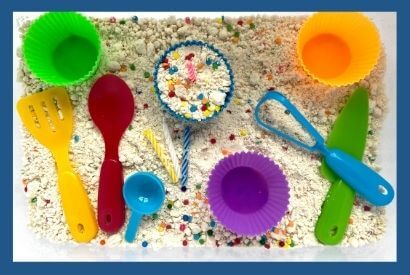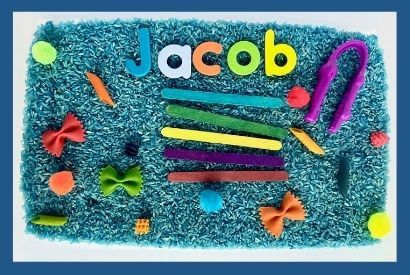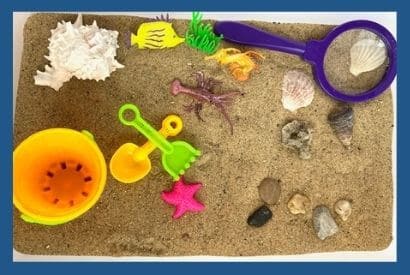 5. Dramatic play
Kids love imitating the things they see grown-ups doing. Playing family, restaurant, post office, and grocery store all give kids the opportunity to practice social skills, communication, teamwork, turn-taking, problem-solving, and empathy. (Not to mention creativity and imagination.)
6. Emotion Charades
An important part of having strong social skills is the ability to know how others are feeling. Playing emotion charades gives kids the chance to practice identifying how other people are feeling. To take this one step further, you can discuss how to respond to someone who is feeling that way, or a time you felt that way. Played just like regular charades, write emotions on slips of paper, the actor draws an emotion card and has to act out the feeling. The other players guess how the person is feeling. We love these cards!
7. Cooperative games
Building with blocks, magnatiles, or legos are all great ways to get kids to practice teamwork.
8. Board games
Board games are great bonding time without the screen! I love laughing together and watching the excitement on Jacob's face throughout the game. Yes, board games are a great way to practice academic skills, but they are so much more. Board games help us learn:
Turn-taking
Following instructions
Sportsmanship
Conversation
Active listening
Problem-solving
Conversation skills
Patience
Self-control
Handling disappointment
Empathy
Some of our favorite board games are:
Candy Land – Candy Land gets a bad rap, but we love it. It is simple enough for even the youngest of players to play, and you can get through a round quickly for short attention spans.
Sneaky Snacky Squirrel – We play this game over and over again. You gather different colors of acorns in your tree stump, but be careful. They can be stolen or blown away by the wind. This is also a great game for working on fine motor skills.
Feed the Woozle – Feed the Woozle is a cooperative game that teaches social skills as well as counting, taking turns, fine motor skills, and spatial awareness. Plus, this is a grow-with-me game with different levels of play so it will last for years to come.
Snug as a Bug in a Rug– Another cooperative grow-with-me game that has different levels of play. We love these because we can play together and the whole family can participate at their own level, plus the game will last for many years. This game teaches shapes, colors, counting, as well as problem-solving, teamwork, and shared decision making.
Pick Me Up Piggie– We love this cooperative game. Each animal has a special errand to do in town. Using teamwork, Piggie drives around to pick up each animal in this memory game.
9. Read
Books are a great way to teach social skills. It gives kids time to process what they are learning and come up with a plan on how to use their new skills while their emotions are calm. If they can think through situations ahead of time, they will be more prepared when they need to use their new skills.
Must Read Books that Teach Social Skills
It's Bear's birthday and he gets all kinds of new toys. Bear learns quickly that it is difficult to share things that are special to you. Your kids will be able to relate to Bear and will love watching Bear as he solves his problem … and learns why sharing is so important.
A Little Spot books are wonderful. This box set includes many skills needed to form healthy relationships such as responsibility, kindness, honesty, patience, and more.
Myself Theme- Feelings & Cooperation by Newmark Learning
These books are great for teaching self-control, problem-solving, how to build healthy relationships, and identifying feelings. These are simple, relatable stories that your kiddos will love.
Personal Space Camp by Julia Cook
Julia Cook is one of my favorite authors for teaching social-emotional skills. Personal Space Camp is for kids who are a little older or can understand a more complex storyline. Written for kids ages 5-8, Louis teaches kids about other people's physical boundaries. You will quickly fall in love with Louis in Personal Space Camp!
Harrison P. Spader, Personal Space Invader by Christianne C. Jones
Oh, Harrison. He just loves life and others so much he has difficulty respecting their personal space. This book is written for younger audiences, and it gives some very practical ways to help measure personal space.
All It Takes…
Social skills aren't something you can read one book about and be done.
At first glance, social skills can seem like a tricky thing to teach, but thankfully with a little intentionality and consistent practice, your child will reap the lifelong benefits of healthy relationships.
Your Turn:
What are your favorite activities to practice social skills?
Want More?
If you liked this, you'll love:
Preparing Your Child Socially for Kindergarten