Inside: Preschool kids can practice their names while making a name snowman. Name Snowmen are fun, simple crafts that preschoolers love, are easy for you to prep, and have tons of extension activities to use with them after!
---
I watched Jacob's eyes glaze over when I put the worksheet in front of him. We've been focusing on writing his name for the past couple of months, and tracing his name was one way we've done that.
I knew by the look on his face that we were headed in for a battle. I prepared myself for the "I don't want to"'s, the whining, and the sitting for 30 minutes complaining before actually writing his name three times (that would have just taken one minute if he'd gotten started right away.)
I've already done all the things. Jacob loves his name sensory bin, we've spelled his name with playdoh, crayons, even pancakes. The name worksheet is my go-to though. It was obvious it was time to switch it up a little.
Name snowman to the rescue. Not only will we practice his name, but fine motor skills, creativity, and after it's finished we will even sneak in a little math with measuring and comparing.
I've found the key to teaching kids to write their names is to see it often and have them practice it in as many different ways as possible. This is the perfect, simple craft to get some name practice in during the winter.
What You'll Need to Make A Snowman Name Craft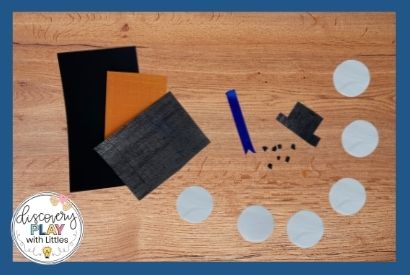 To make your own name snowman, you'll need
Black paper for the eyes and buttons
A small scrap of orange paper (or an orange marker) for the nose
Felt, ribbon, or scrap paper for a scarf
White paper for your snowballs
If you really want to get creative, you can use googly eyes and pom-poms for decorations.
Are you tired of hearing "It's TOO HARD!" followed by a meltdown?
Using this one simple phrase you'll get in this powerful lesson, you'll not only be able to help your kiddo not give up but you'll:
>Activate their superpower of perseverance so that they can turn around a meltdown and keep trying
>Inspire them to use perseverance…even when it's hard
>Teach them to recognize the warning signs of giving up, and how to turn it around by taking control of their choices.
Grab your powerful FREE video lesson to teach your kiddo one of the most powerful keys to perseverance.
How to Make Your Snowman Name Craft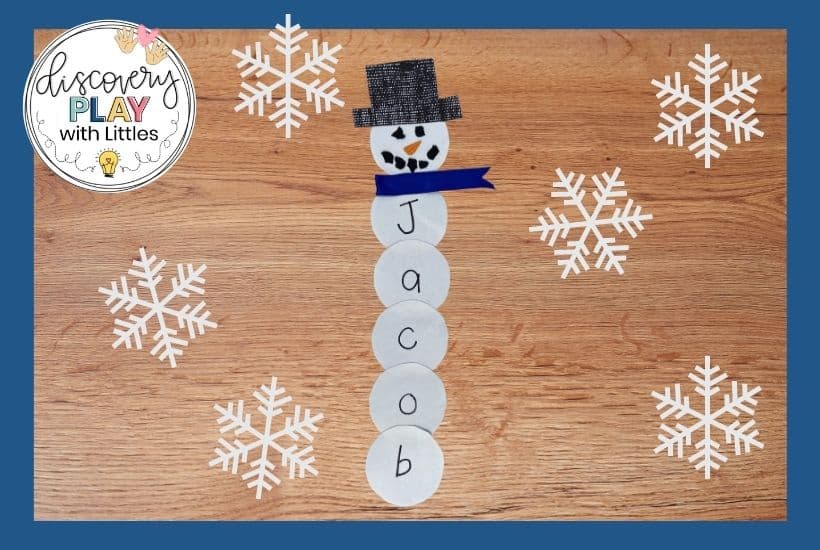 We were also working on cutting skills, so Jacob did all of the cutting for his snowman.
Make your template for the snowballs (I used the a cup.)
Cut your hat. Any color of scrap paper you have will be fine.
Cut triangle for a carrot nose (or use a marker when you're finished), and use felt, ribbon, or scrap paper to cut a scarf.
We love tearing paper, it is great for strengthening little fingers. We tore pieces of black paper for the eyes and smile. You can also use a black marker, but tearing paper is more fun.
To help with left-to-right progression, have your child lay their snowballs in a line, left to write. Then, have them write a letter on each snowball. Last, have them read their name. This will help them understand that even though snowmen are made top to bottom, we still read left to right.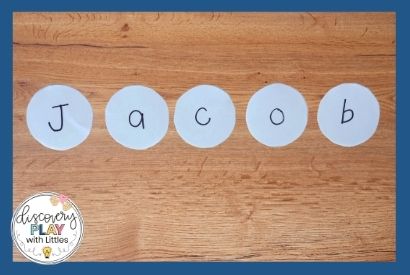 Last, assemble your snowman!
Extension Activities for Your Name Snowman
Just because you've finished your name snowman craft doesn't mean you're finished. After kids put so much work into making something, they are excited to use it for other activities.
Kids can have fun comparing their snowmen:

Whose snowman is the tallest?
Whose snowman is the shortest snowman?
Who has the most letters?

Count the snowballs in your snowman, and write the number on the snowman's hat.
Use your snowman to make patterns by having kids cut different colors of snowballs and make a pattern with their snowman, or use all of their assembled snowmen to make patterns by hat color, scarf color, or the number of snowballs.
Measure snowman with cubes
We love sensory bins. Check out this Snowman Name Sensory Bin from Active Littles.
Of course, don't forget to read all about snowmen!
As an Amazon Associate, I earn from qualifying purchases at no additional cost to you.
Sneezy The Snowman by Maureen Wright
Sneezy is a favorite in our house! This silly snowman is too cold, so he tries many different ways to arm up, but he melts every time! The fun rhythm and rhyme of this book has kids laughing the whole way through.
Snowmen at Night by Caralyn Buehner
A little boy wakes up to a shoveled sidewalk, but he didn't see anyone shovel it for him. Could it have been his snowman? His imagination runs wild while he thinks about all the jobs a snowman could have. This would be great to incorporate with your name snowman- kids could decide what they want to be when they grow up and draw a uniform on their name snowman to go with that profession.
The Biggest Best Snowman by Margery Cuyler
Little Nell is always told she is too little to do what she wants. She decides to go out into the forest with her forest friends to do what she wants. The result is the biggest, best snowman! This is a great book to read before comparing the snowmen your kids made.
---
We loved making our snowman. It's a fun way to practice letter writing, name recognition, counting, more, less, creativity, and fine motor skills all in one simple activity. Changing the way you practice helps keep activities fresh and exciting, so you don't have to do the same worksheet over, and over, and over again.
Want More?
If you liked this, you'll love:
5 Genius Ways to Use the Alphabet Chart to Teach Letters
How to Teach Your Child to Write Their Name
Simple Ways to Strengthen Your Child's Fine Motor Skills
Your Turn
What's your favorite extension activity for your snowman name craft?