Inside: Your kids will love creating their own leprechaun trap, but it can be tricky. Those pesky leprechauns are masters at escaping sub-par traps left for them. Luckily, our guide will help you create a flawless leprechaun trap!
---
I was getting breakfast ready when my 4-year-old came bounding out of his room. "Mom! Can we make our leprechaun trap today?" We read three books about leprechaun traps the night before and he couldn't wait to get started.
"Sure buddy…after breakfast." As soon as we finished breakfast, he gathered the materials on the counter and brought them to the table. "OK mom, what do we do?"
I watched him as he made decisions about how to entice the leprechaun into his trap, and mechanically how it was going to work. He was really excited to see it come together. "Oh! And I want a sign that says 'No People' so the leprechaun knows there are no people in there." He thought of everything. With a little help (mainly with the hot glue), his leprechaun trap was finished.
It may not have looked perfect, but it was his. And was he ever proud.
The Perfect Activity
If you're looking for a simple craft for St. Patrick's day, the Leprechaun Trap is the perfect activity. It can be as simple as a box colored with a green marker and a ladder, or as complex as a hat with a trap door, pulleys, and nets.
Kids use creative thinking, engineering, imagination, and even fine motor skills all while creating their ingenious trap to catch the pesky leprechaun.
Even though we know these sneaky leprechauns always escape, your kids will love checking their trap every few minutes throughout the day to see if they were finally able to catch the pesky fellow.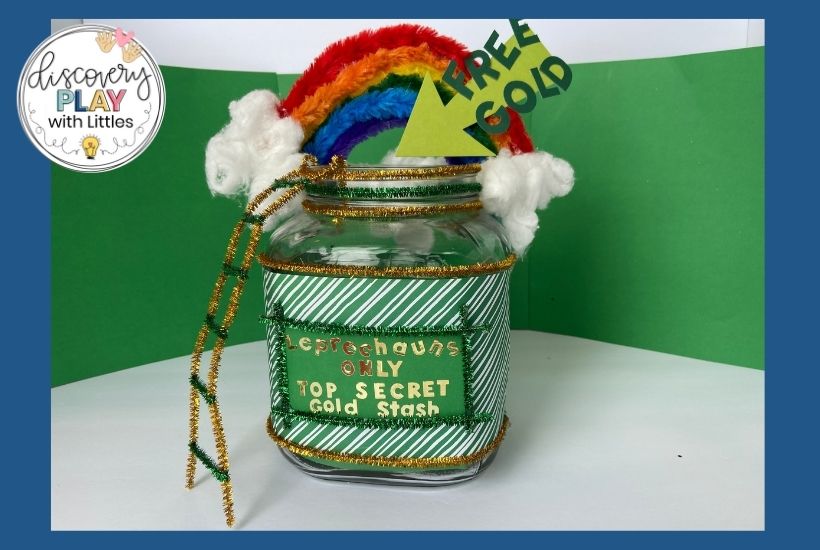 Always Start Here
Before building your trap, you may want to gather a few tips and ideas from our favorite books about catching leprechauns.
As an Amazon Associate, I earn from qualifying purchases at no additional cost to you.
How to Catch a Leprechaun
Your kiddos will love this book about the perfect traps to catch a leprechaun! Planning and preparing, creating, and then waiting, your kiddos won't be able to wait to start constructing their own leprechaun trap after reading this hilarious rhyming book.
How to Trap a Leprechaun
This book will have your kids rolling in laughter as it tells of the legend about leprechauns. If you trap one, he will grant you one wish…but if he gets away, he'll steal all your treasure. Your kids will love watching the children in the book plan and prepare their leprechaun trap. Best of all, your kids will get ideas for their own trap.
Three Ways to Trap a Leprechaun
Claire is determined to catch a Leprechaun to prove they are real. Will she be able to catch her leprechaun or will he get away? Your kids will love following Claire, her creativity, and the hilarious events in this book.
After reading these books, your kiddo won't be able to wait to get started, so you may want to have your materials ready.
Why Build a Leprechaun Trap?
Kids will not only love building their leprechaun trap, but it's good for them too! Science, math, engineering, and creativity are just a few of the skills used when making their leprechaun traps. Kids can learn about how leprechaun traps work and how to make them more effective. They can also use their creativity and imagination to come up with fun designs for their leprechaun traps.
Are you tired of hearing "It's TOO HARD!" followed by a meltdown?
Using this one simple phrase you'll get in this powerful lesson, you'll not only be able to help your kiddo not give up but you'll:
>Activate their superpower of perseverance so that they can turn around a meltdown and keep trying
>Inspire them to use perseverance…even when it's hard
>Teach them to recognize the warning signs of giving up, and how to turn it around by taking control of their choices.
Grab your powerful FREE video lesson to teach your kiddo one of the most powerful keys to perseverance.
Leprechaun Trap Ideas
Planning Your Leprechaun Trap
First, you'll need to come up with a plan. Leprechauns are tricky creatures who don't want to be caught. How will you trap him? A jar, a box, or another contraption altogether? What leprechaun bait will you use? Gold, glitter, rainbows (Skittles or Lucky Charms)?
We used a ladder, green glitter, and a pot of gold inside our jar.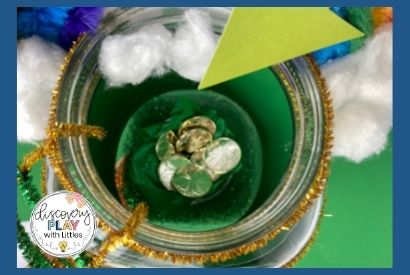 Next, think about what supplies you'll need. I grabbed anything I could find around my house that was green, gold, or that I could make into a rainbow.
As an Amazon Associate, I earn from qualifying purchases at no additional cost to you.
Gold Coins (or other leprechaun bait such as Skittles)
Leprechauns Black Pot
Popsicle Sticks
Ribbon
Creating Your Leprechaun Trap
First, you'll want to put together how your leprechaun is going to get into your trap. A ladder, trampoline, a trap door, or find a way to keep your box open.
Next, you'll want to make the trap look as exciting to your leprechaun as possible. There is gold in the bottom of my leprechaun trap that will draw my leprechaun in. Leprechauns love gold, rainbows, and glitter.
Once you have the necessities, decorate! Use all the rainbows, green, gold, and glitter you can.
The most important thing is to let your kiddo lead the construction. It's easy for us to see what needs to be done, and the best way to do it. If you take over construction for your child, all they will learn is that you can do it better than they can. By allowing them the freedom to do what they want, you will get a chance to see their creativity explode, and you will enjoy your time together more than if you take over their project.
If you're a more ambitious mom than I am, you can find a time throughout your day to make little green glitter footprints leaving your leprechaun trap, and leave some chocolate gold coins in the trap. Bummer, the leprechaun escaped but he left you a treat!
What Happened…
When Jacob woke up the next morning, the first thing he said was "Mommy! Let's check the leprechaun trap!" as he raced to see if he caught a leprechaun. May the excitement in your house match the excitement in ours. Happy leprechaun trapping!
Looking for More St. Patrick's Day Fun?
Your kiddo will love helping you with these Shamrock Pretzel Pops from Crafty Morning. They are a simple and fun way to involve your child in making a festive snack. These Over the Rainbow Gelatin Cups from Elf on the Shelf are delicious and festive as well.
Want More?
If you liked this, you'll love:
Tearing Paper Activities: Strengthening Fine Motor Skills
Simple Ways to Strengthen Fine Motor Skills
6 Simple Activities to do with Preschoolers at Home
Your Turn
Have you made a leprechaun trap? Did you catch a leprechaun?