Although each child has a different level of interest in drawing, learning to draw is important for all children! Skills needed for drawing start when children are babies and are important to be practicing.
As children grow, they begin to get interested in making marks on paper (and hopefully only on paper…not on the walls!) Eventually, these marks have meaning, and after a child learns to draw, they begin to write letters and words.
Why Drawing is Important for Children
There are a lot of benefits of drawing for children! Some of the most important benefits of drawing include:
strengthening fine motor skills
exploring their creativity
strengthening focus
developing hand-eye coordination
providing a creative outlet for kids to show how they are feeling
not to mention drawing is an important activity that practices those pre-writing skills!
Of course, drawing is not the only way to practice creativity, fine motor skills, focus, and hand-eye coordination. There are thousands of activities that will strengthen these skills.
Drawing is especially important for those pre-writing skills. Giving your child an opportunity to practice holding their writing utensil and having control over it will benefit them greatly when it comes time to learn letter formation!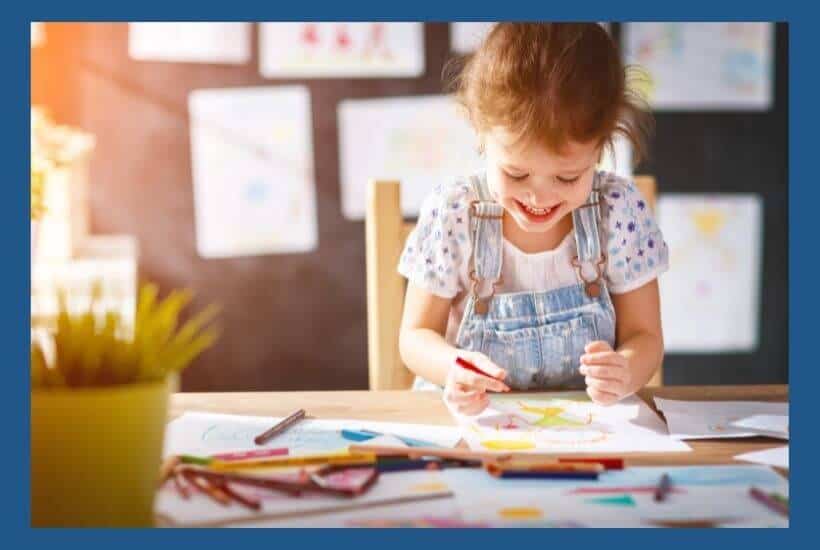 How to Teach a Child to Draw
Remember, as with anything new that a child is learning, to praise the effort instead of the final product. Nothing will kill a child's interest in drawing faster than feeling like they "can't do it right," or if they feel "not good enough."
To be encouraging, you can praise how hard they are working or the colors they are using. Help them feel proud of what they are creating. Hang it up somewhere where the people in your home will see it so your child can show off their masterpiece.
Giving a child regular access to a variety of creative materials such as colored paper, scissors, crayons, markers, colored pencils, etc. will encourage creativity and provide an excellent opportunity to practice fine motor skills.
Our favorite way to practice drawing is to draw on a blank sheet of paper. Although we do use coloring books every once in a while, strictly using coloring books will limit their creativity and imagination.
To really strengthen their confidence and creativity, try also to limit step-by-step directions or crafts that follow models. To strengthen a child's creativity, you can give them a box of materials (paper, markers, crayons, toilet paper tubes, pom-poms, ribbon, etc.) and let them create whatever comes to mind.
Even if your child isn't interested in drawing, you can provide practice for fine motor skills in other ways. Strengthening these skills will give your child better control over their writing utensil and will help them when they are drawing, and later on, writing. Tearing paper, for example, is a great way to practice fine motor skills and strengthen the muscles in little fingers.
Are you tired of hearing "It's TOO HARD!" followed by a meltdown?
Using this one simple phrase you'll get in this powerful lesson, you'll not only be able to help your kiddo not give up but you'll:
>Activate their superpower of perseverance so that they can turn around a meltdown and keep trying
>Inspire them to use perseverance…even when it's hard
>Teach them to recognize the warning signs of giving up, and how to turn it around by taking control of their choices.
Grab your powerful FREE video lesson to teach your kiddo one of the most powerful keys to perseverance.
Stages of Drawing
15 months-2 ½ years
Random scribbling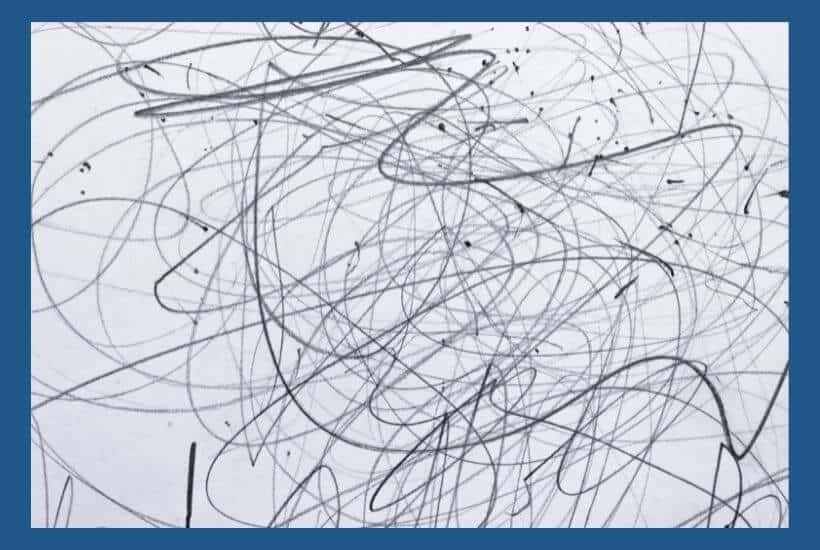 During this stage, children are learning cause and effect. Their movements with a crayon are making marks on the paper. During this stage, children use their whole fist to grasp their crayon and are making movements with their whole arm.
2 Years
Controlled Scribbling
As children gain more experience holding crayons or markers, they will be more controlled with their coloring. They can trace a vertical line, horizontal line, and circle. Children will hold the crayon or pencil using their thumb and first two fingers.
3 Years – 5 Years
Pictures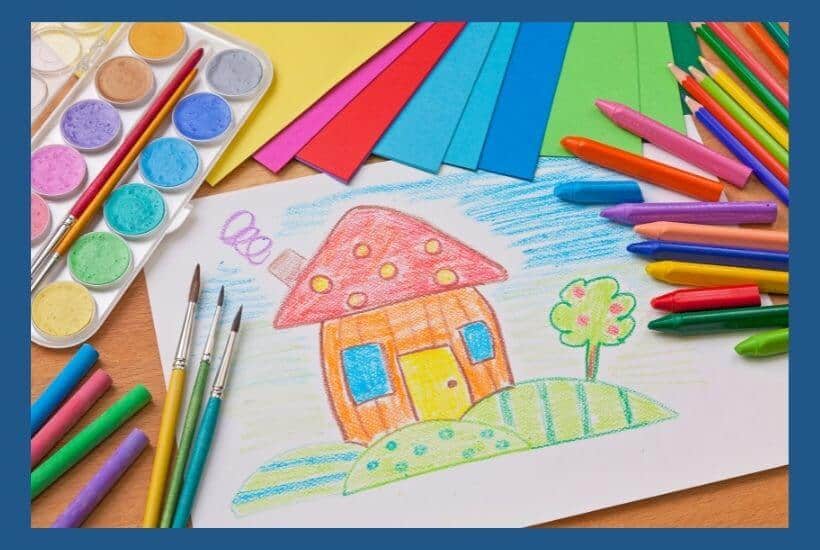 At first, a child will make a random drawing of lines and scribbles and name it after they are finished. As they progress through this stage, they will begin to plan what they want to draw and make shapes accordingly.
At 3, children can draw a cross shape and will begin to hold their pencil towards the end, with their thumb and first two fingers.
When they are about 4-years-old, they can draw a diagonal line, cross shape, and square. 4-year-olds will begin to hold their pencil correctly with a tripod grasp and have good control.
A 5-year-old will master the triangle. Around the age of 4-5, children can start to practice writing letters and words.
Keep it fun!
Remember, as with anything just keep drawing fun! To encourage creativity, children must be excited about drawing and want to practice more.
When asking about their picture, always say "tell me about your picture" instead of saying "wow, that's a nice…doggie?!" This avoids any misinterpretations of drawings and allows the child to feel proud when telling you about their masterpiece.
Let me know in the comments below how you encourage your child to love drawing!
You May Also Be Interested In: