Inside: The way we hold our pencils affects our ability to write, color, and draw. Learn what pincer grasp is, why it's important, but most of all, how to teach your kiddo the correct way to hold their pencil.
---
I watched my preschooler as he held his pencil. His writing resembled something a gorilla may create with a stick. I could barely read it, and it wasn't for lack of trying.
He was frustrated. I was doing everything to stay patient.
In the back of my mind, I kept counting the days until school started. We had to get this under control, but where do we even begin?
I've done the worksheets. The air writing. The play-doh and sensory letters. What's left?
As I watched him, I noticed he was grabbing his pencil awkwardly. He wouldn't listen when I tried to show him the correct way to hold a pencil… and that's where our problem was.
Most of the adults I know who have bad handwriting don't hold their pencils correctly. This is a problem and one we can't let go on for too long. So now, the real question. How do I get him to hold his pencil the right way?
What is Pincer Grasp?
Pincer grasp is the ability to pick an item up with only your thumb and index finger. The correct pincer grip is when you are able to use the tips of your fingers to pick something up, instead of the pads of your fingers.
Babies will use the pads of their fingers around 8-9 months old but should move onto the tips of their fingers around 10-12 months.
As kids begin to write and color, they will strengthen their pincer grasp on pencils, crayons, and markers around the time they are 3-5.
Why is Pincer Grasp Important
Pincer grasp is important for many tasks and activities that kids do.
Children need to develop a strong pincer grasp to complete self-care tasks like buttoning, zipping, and lacing.
Pincer grip is important for future skills like handwriting. If you don't hold your pencil correctly, you won't have proper control over it and your handwriting will suffer. You will have a difficult time not only writing but coloring and drawing as well.
Luckily, there are some simple activities you can do to strengthen your child's pincer grasp.
Any activity that gets your child using their thumb and pointer finger to pinch objects is beneficial to develop their pincer grasp, but here are some of our favorite activities.
Are you tired of hearing "It's TOO HARD!" followed by a meltdown?
Using this one simple phrase you'll get in this powerful lesson, you'll not only be able to help your kiddo not give up but you'll:
>Activate their superpower of perseverance so that they can turn around a meltdown and keep trying
>Inspire them to use perseverance…even when it's hard
>Teach them to recognize the warning signs of giving up, and how to turn it around by taking control of their choices.
Grab your powerful FREE video lesson to teach your kiddo one of the most powerful keys to perseverance.
As an Amazon Associate, I earn from qualifying purchases at no additional cost to you.
Activities to Help Babies Develop Pincer Grasp
Stack and build with blocks. This set is our favorite. I love the letters on the side with pictures of things that start with that sound.
Pom pom whisk- Put pom poms in a whisk and have your baby pull them out.
Toys with buttons, switches, or dials
Activities that Help Toddlers Strengthen Pincer Grasp
Stickers are an all-time favorite fine motor activity for most kiddos.
Stringing large beads is a great activity to strengthen fine motor skills. Toddlers and older kids both love it so it's a fun activity that lasts for years to come.
We love this set. It's great for strengthening fine motor skills and developing a pincer grasp.
Activities for Preschoolers that Develop Pincer Grasp
Stringing pony beads
Perler beads– Did you play with these as a kid? I would spend hours and hours creating many wonderful things with my perler beads.
Buttons
Picking up pom poms with these tweezers. Kids can put the pom poms in a new container or an ice cube tray.
Play board games (Here are the best board games for preschoolers.)
Clothespins
Turn the pages in a book (Check out books preschoolers love.)
Pin art – Using these templates, put the pictures on the floor (carpet) and poke holes in the outlines using a tack. When you turn the paper over and hold it up to the sun you will have a fun picture. If you are feeling really creative, tape a blank piece of paper under the template before you start poking holes. This way your finished product won't have the black lines from the template. Then, color, paint, or use torn paper to decorate your picture.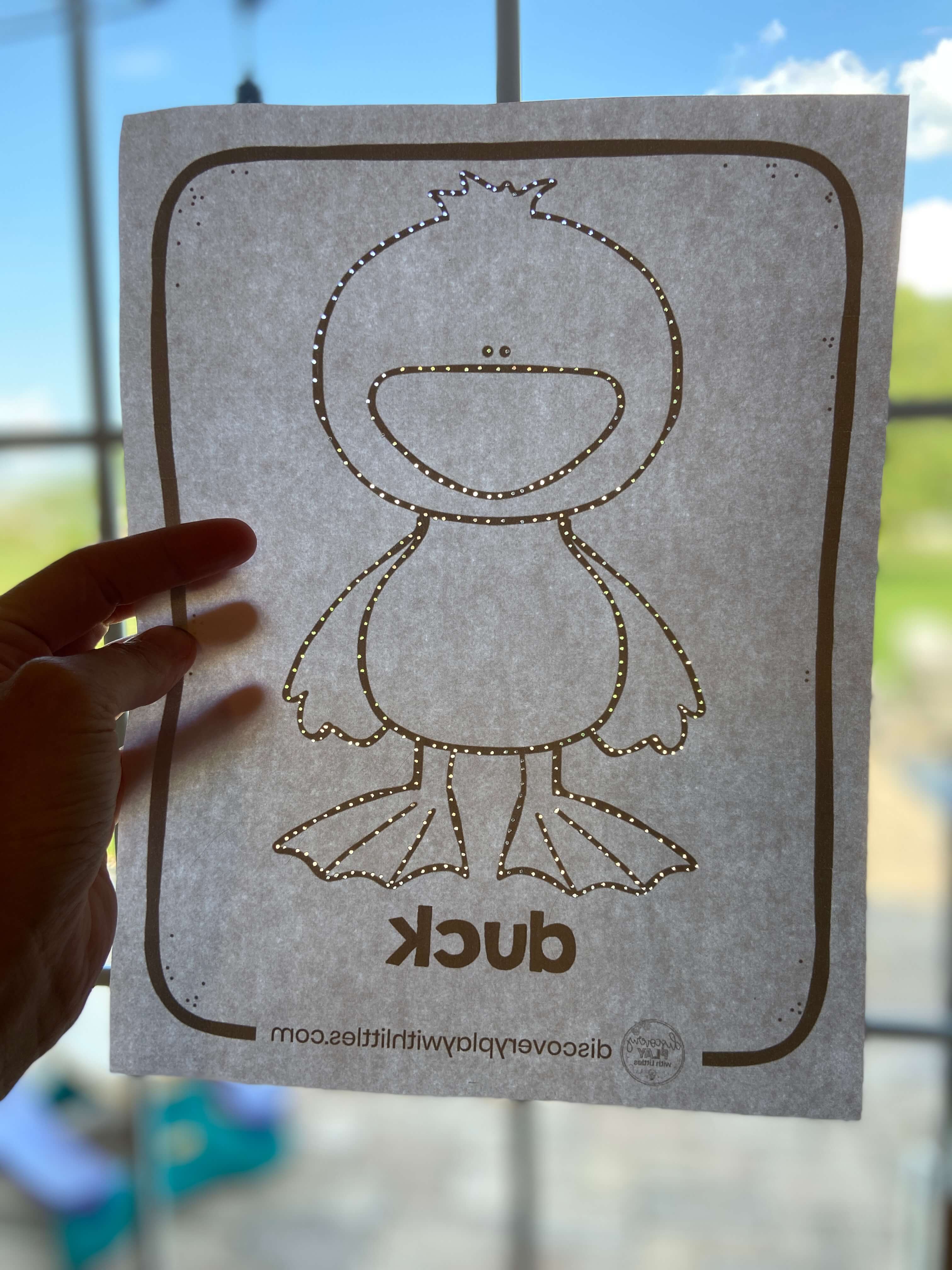 Our Favorite Tools that Help Develop Pincer Grip
Use these tools to help strengthen your child's fingers. These are all favorites I used in my kindergarten classroom regularly.
Eye Dropper– We love to use these in the bath or while playing in a water table.
Fine Motor Tool Kit– We use all of these at home. They've become now of our favorite addition to our everyday play.
Avoiding Technology
I've noticed that the kids in my classroom who have the best pencil grip also spend the least amount of time on technology. Kids who spend most of their time swiping on a phone, pushing buttons on a video game system, or just watching tv are not giving their fingers the necessary strength-building activities to be able to hold a pencil correctly or have strong fine motor skills. Allowing kids to direct their own play and spend hours outside has amazing benefits. Find more information on Screen-Free Kids.
Your Turn:
What are your favorite activities for developing a strong pincer grasp?
You Might Also Enjoy: