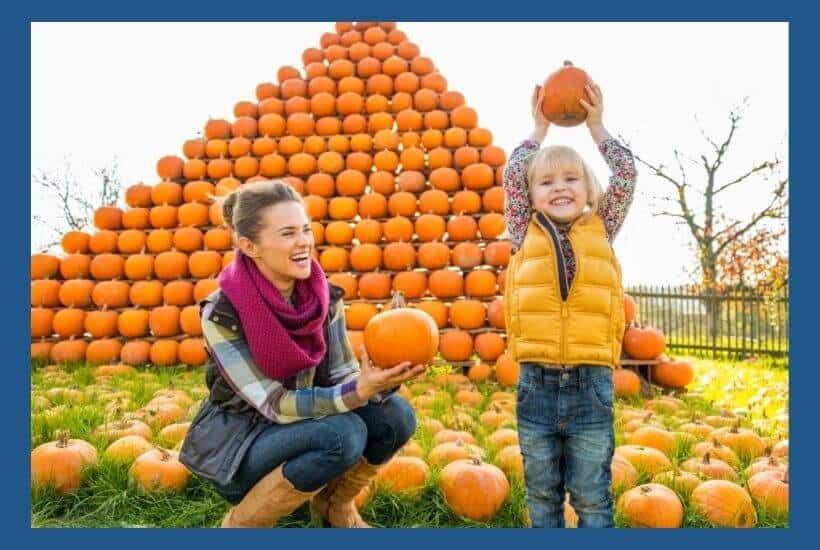 Colorful leaves, late-night campfires, hoodies, bike rides, the smell of leaves burning, trips to the pumpkin patch, and warm drinks. I love October! October also has many fun themes that you can study with your littles. Here are some of our favorite October activity ideas.
With all of these October activity ideas, your child's ability to complete them independently will vary depending on their age and how many activities like this you have done in the past. Remember, the most important thing is to keep it fun and help them feel proud of their accomplishments.
Help where you have to, and let them try some new things even if you know the activity won't turn out perfectly. Enjoy your time together, and hopefully, you will learn something new!
Pumpkins
What would October be without some pumpkin activities?
As an Amazon Associate, I earn from qualifying purchases at no additional cost to you.
My absolute favorite thing to do in October is to read Spookly the Square Pumpkin by Joe Troiano. This book is all about a pumpkin who is a square and, at first, feels ashamed for being different. One day, a storm comes through the pumpkin field and the pumpkins start rolling towards a hole in the fence. They are all scared, but Spookly discovered it is good to be different when he can save the day!
With this book, we love to study shapes. We make pumpkins that are all different shapes, with different shapes for their eyes, nose, and mouth. The kids have fun picking out some unusual shapes for the face of their pumpkins.
You can also use this for tracing shapes if you draw the shape on paper and have your kiddo trace it before they cut. This will also give your child an opportunity to practice beginning scissor skills as they cut the shapes out.
*To really make your pumpkin different, you can make your pumpkin different shapes, sizes, and colors too. Who says pumpkins have to be orange? For a truly unique pumpkin, watercolor your pumpkin before adding the face.
Watercolor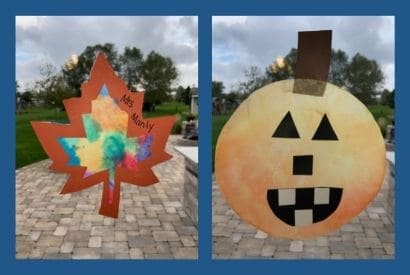 We love to watercolor coffee filters. This is a quick, simple activity that will add some fall spirit to your home. You can watercolor a coffee filter and after it's dried add a face for a jack-o-lantern (another opportunity to learn more about shapes!), or watercolor a coffee filter all different colors and cut it in the shape of a leaf after it's dried.
These look so beautiful in the window and your kiddo will love to look at them throughout the month of October.
*Random tip: Put your coffee filter on wax paper to watercolor, and leave it there while it dries. The wax paper will repel the color from the watercolor so the colors on your coffee filter stay more vibrant instead of soaking into your table or counter.
Are you tired of hearing "It's TOO HARD!" followed by a meltdown?
Using this one simple phrase you'll get in this powerful lesson, you'll not only be able to help your kiddo not give up but you'll:
>Activate their superpower of perseverance so that they can turn around a meltdown and keep trying
>Inspire them to use perseverance…even when it's hard
>Teach them to recognize the warning signs of giving up, and how to turn it around by taking control of their choices.
Grab your powerful FREE video lesson to teach your kiddo one of the most powerful keys to perseverance.
Study the Parts of a Pumpkin
We love to look at the parts of a pumpkin and learn about plants. Find the stem, skin, pulp, ribs, and seeds. If you are picking your pumpkin, don't forget to look for the vine and leaves.
Pumpkin Life Cycle
Read Seed, Sprout, Pumpkin Pie by Jill Esbaum and study the pumpkin life cycle. Plant a lima bean, and see what happens. You will be able to observe the parts of a plant and the beginning stages of the life cycle. Draw a diagram of the pumpkin life cycle.
Decorate a Pumpkin
If you aren't into making a jack-o-lantern, have your child paint and decorate their pumpkin. You can glue big googly eyes, and use glitter, pom-poms, feathers, or whatever else you have laying around the house for inspiration.
Other Favorite Pumpkin Books:
Otter Loves Halloween! by Sam Garton
Little Boo by Stephen Wunderli
Bats
You can't go through October without reading Stellaluna by Janell Cannon. Stellaluna is a bat who gets separated from her mother as a baby and lands in a bird's nest. Her entire young life, she tries to fit in with the birds. She sleeps in the nest instead of hanging by her feet. She sleeps at night, instead of during the day. Stellaluna even eats…WORMS! It isn't until she gets lost and is out past her bedtime one night that she meets other bats, and realizes that it's good to be different from your friends.
While studying bats, you can talk about rhyming. Bat is a wonderful word that is easy to rhyme. Don't worry if your child doesn't catch on right away, rhyming is a kindergarten standard, so there is plenty of time to learn how to rhyme.
I am careful about how much screen time we watch, but there is a Stellaluna movie.
Bat Craft
Using a toilet paper tube, a paper towel tube, or just rolling paper and taping it to make a cylinder, this bat craft is fun to make and will provide great cutting practice for your little.
Other Favorite Bat Books
Brilliant Bats by Laaren Brown
National Geographic Bats by Elizabeth Carney
Paper Scarecrow Craft
This is a fun and simple torn-paper craft to do.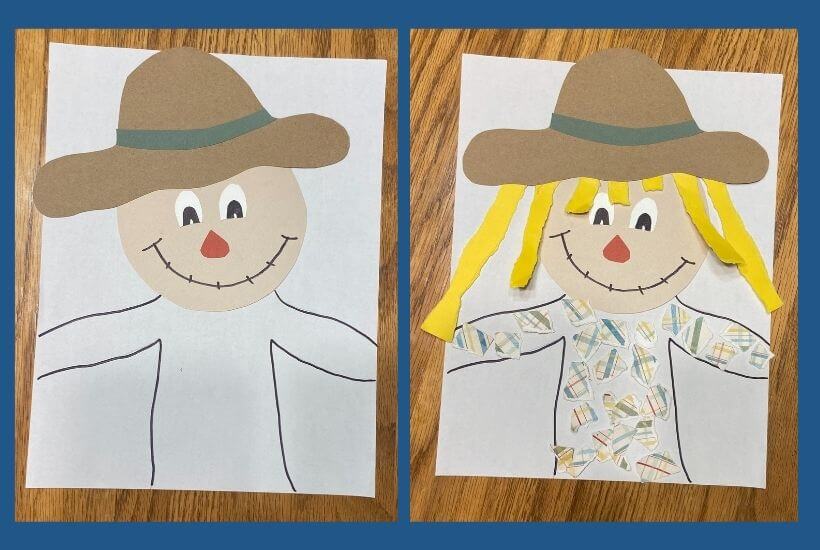 First, cut the hat and a tan circle for the face. Also, cut the nose and eyes.
Draw the scarecrow's body.
(Optional) Before gluing the face and hat, watercolor the background, being careful not to watercolor the area for the shirt.
Tear small squares of paper for the shirt, and longer pieces of yellow for the straw for hair.
Glue the torn paper to your picture.
Sensory Bins
I do love a good sensory bin. Corn, chickpeas, sunflower seeds, and oats are popular fillers for fall. You can add pom-poms that are fall colors, acorns, leaves, small pumpkins, and pinecones. Bubble tongs work great to grab the filler you choose and practice those beginning scissor skills.
Have fun!
I hope you found some new activity ideas for October. Let me know in the comments below which ones you have tried or any activities we should add to our list!