Inside: Looking for a meaningful but simple way to show Mom how much she's appreciated? Check out our favorite crafts that Mom will treasure forever (and are easy for you to make with your toddler and preschooler).
---
I covered my eyes like I was told. "Mommy, are they closed?" "Sure are!" I love the joy he gets from surprising me.
"Ok! Open them!" He was beaming, holding a flower pot filled with beautiful yellow flowers. "Oh buddy, it's gorgeous! Did you make it?" "Yup!"
We all appreciate our moms (Grandmas, Aunts, Birth Moms, and special friends) and want to show them how much they're cherished. Mother's day is the perfect time to show them how much we love them.
Finding a meaningful craft that mom loves and that the boys can do (without me doing most of it on my own) can be a bit tricky for toddlers and even preschoolers.
The keys to a successful Mother's Day gift are:
The kids enjoy making it (you don't want to fight them the entire time)
Kids do the work (Grandmas & Moms don't want a craft from ME)
Moms (and important women) in our lives will cherish (because we cherish them)
The supplies are inexpensive (I found most of my supplies at the Dollar Tree, or used what I had already around my house)
Process art is cute, but as a mom, I'm a bit more sentimental. I love handmade gifts my boys give me that include handprints and footprints, or something they have done completely on their own.
The best part is they are so proud of their accomplishment, and usually, there is a deeper meaning behind why they completed the project the way they did.
Do you love blue? They may paint the entire picture blue. They might incorporate a little red because it reminds them of the time you took them to Mcdonald's. I love seeing the way their little minds work.
The activities below are fun and simple. They make the perfect gift because most importantly kids love doing them and mothers treasure them for years to come.
Easy Mother's Day Cards
Torn Paper Heart Card– This is a fun way to make a handmade mother's day card while strengthening fine motor skills.

Tearing paper is great for strengthening little fingers! Have your child tear 2-3 colors of paper into little pieces.
Cut out a heart about the size of your card. (I cut a white paper the size of my card, folded it in half, and cut half of my heart so the sides would be symmetrical).
Have your child glue the pieces of paper onto the heart. Make sure to go over the edges.
Trim the edges and attach the heart to the front of your card.
Add a cute tag or saying to the front.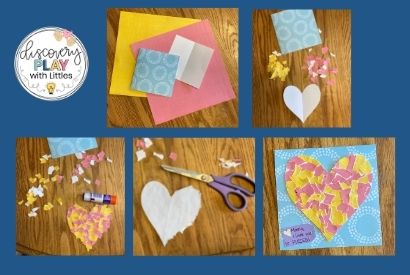 Marble Painting Heart Card

Kids love marble painting. Grab a foil tray (or a tray you don't mind getting paint on), a couple of marbles, paint, and a piece of card stock. 
Put the cardstock and marbles into the tray.
Put small dots of paint around the edges of your cardstock. 
Have your child tip the tray so the marbles go through the paint and drag paint over the entire paper.
After it has dried, cut a heart out of the paper and attach it to your card.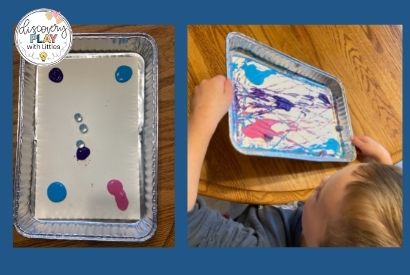 Handprint Rocket Ship Card
Butterfly Handprint Cards
Handprint Crafts
Using a child's handprints (or footprints) is a sentimental way to show mama how much she's cherished.
Handprint Hotpads

Grab a set of hot pads (I found mine at the Dollar Tree) and use paint to make handprint hot pads. You can add your child's name and the year with fabric paint.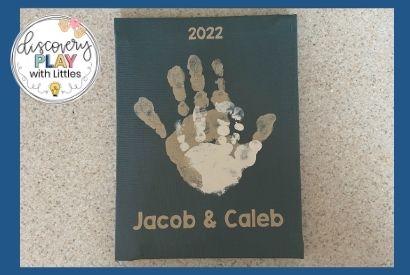 Handprint Painting

I'm a sucker for handprints, even though they aren't the easiest to do with young children! Grab a canvas from Michaels or the Dollar Tree, and paint it to match your color scheme in your house.
Put a handprint from your oldest child just above the middle, and let it dry.
Add a handprint from your next youngest child in a different paint color, and let it dry. (Repeat for all children).
Add names and the year by making a stencil out of vinyl with a Cricut, stickers, or a sharpie.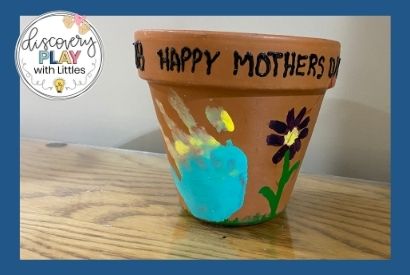 Flower Pot

Grab a flower pot, paint, and a paintbrush. To add letters to the top, you'll need puffy paint.
Using handprints and footprints, decorate your flowerpot.
Allow to dry, fill with dirt and flowers.
Footprint Butterfly Poems
Handprint Flower Bouquet

I love this handprint flower bouquet from Baby Chick. They even write special things they love about mom on each of the handprint flowers to make it even more meaningful.
Heart Foot Print Keepsake

This salt dough heart footprint keepsake from Learning and Exploring through Play is adorable and something mom will love forever.
Thumbprint Butterfly Mug

If there's one thing a mom of young children needs its coffee! Moms will get lots of use from this thumbprint butterfly mug made by The Best Ideas for Kids.
Are you tired of hearing "It's TOO HARD!" followed by a meltdown?
Using this one simple phrase you'll get in this powerful lesson, you'll not only be able to help your kiddo not give up but you'll:
>Activate their superpower of perseverance so that they can turn around a meltdown and keep trying
>Inspire them to use perseverance…even when it's hard
>Teach them to recognize the warning signs of giving up, and how to turn it around by taking control of their choices.
Grab your powerful FREE video lesson to teach your kiddo one of the most powerful keys to perseverance.
Cute Mother's Day Crafts for Toddlers and Preschoolers
You can find all kinds of free printables for mother's day. Although those are easy, as a mom, I prefer something with a little more handmade touch to it. These mother's day craft ideas below are simple to make and mamas love them!
Painting a picture frame– This is a fun craft for younger kids to make. They love the idea of putting a picture of them in the frame to make it extra special!

I found a cute frame at the dollar tree and let my toddler pick 3 colors. He loved painting it, and when it was dry, I put a picture of us in it.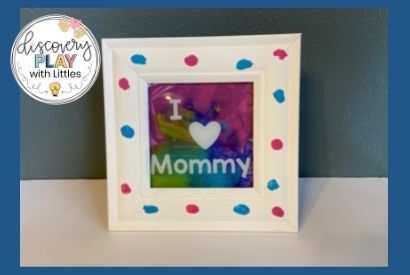 Glass Painting– This is a great idea for older children to make. They can handle the responsibility of being careful with the glass, and painting glass is a fun activity they haven't likely done before.

This takes a little help from an adult, but the child still does most of the creating. If you have a Cricut, cut the words I (heart) Mommy out, but flip them so they are backward.
Transfer the words to the inside glass of the picture frame.
Have your toddler or preschooler paint over the words.
After the paint has dried, you can choose to leave the words, or take them off. I left them on because they did a nice job keeping the paint out, but if some paint got under your vinyl you might want to take them off so you can clean it up. Then, put a colored background where a picture may go.
If you don't have a Cricut, you can also have your child paint the inside of the picture frame and put stickers on the outside.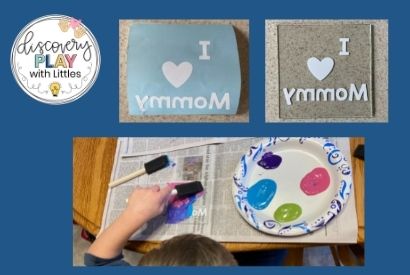 Cupcake Liner Flower Picture– This is an easy craft, but more of process art than having kids create something original.

Glue regular and mini-size cupcake liners together to make this creative picture of flowers. To make it even more meaningful, help your toddler sign it with their handprint.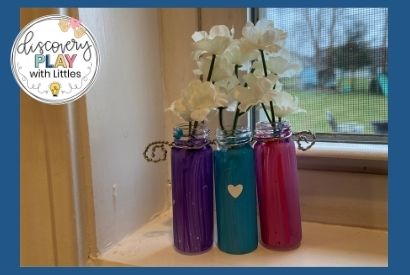 Painted Flower Vase– Here's an easy Mother's Day craft. These vases don't take long to paint, and kids love the thought of personalizing a flower vase to hold all of those beautiful dandelions they will pick for their amazing mama throughout the summer.

I found these adorable mini-vases at Dollar Tree. There were 4 in a pack, but I like the look of bundling 3 of them together.
Allow your child to paint the outside of each jar.
Hot glue them together or use wire to attach the top of the vases.
Add a letter to each vase to spell MOM or just add a heart to the middle. If you're feeling creative you can use your child's fingerprint to make a flower for the middle vase.
I love Mommy Painting

Again, using your Cricut, cut out the words I (heart) Mommy on vinyl (or use stickers).
Have your child paint over the stickers.
After it's dry, remove the stickers.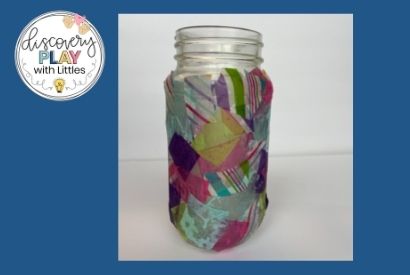 Tissue Paper Candle Holder

Grab a mason jar (I used a pasta jar)
Help your toddler or preschooler cut tissue paper into small squares.
Add Elmer's glue or mod podge to one side of your jar at a time. Spread the glue with a paintbrush so there's a thin layer of glue or mod podge covering the entire side.
Help your toddler stick the pieces of tissue paper on the jar to cover the entire side. Use your paintbrush to stick down the corners of the tissue paper.
Again, if you're feeling extra crafty you can grab stickers or use your Cricut to cut the letters I Love Mommy out of vinyl and attach them to the outside.
Allow it to dry for 12-24 hours, add a candle.
Tie-Dye Bookmarks
Egg Carton Flower Bouquet

Older kids will love making this flower bouquet out of a recycled egg carton from The Craft Train.

Heart-Shaped Notebook

Easy Peasy and Fun makes this heart shape notebook that you can fill with your child's drawings and sweet messages to mom.
---
Making any handmade mother's day gift can be as simple or complex as you make it. I hope you found many mother's day craft ideas you'll love making for mom that she'll treasure for years to come. Just remember, the best ways to celebrate mom aren't about the gifts, but the thought put into showing mom how special she is.
Want More?
If you liked this, you'll love:
63 Fun Outdoor Activities for Kids and Families (Looking for fun Mother's Day activities?)
Fun Water Table Ideas That Will Delight Toddlers
13 Secrets to Make Bath Time Fun and Boost Development
Your Turn
What are your favorite Mother's Day Crafts?