Inside: These books about friendship teach preschoolers and kindergarteners how to be good friends. Your kiddo will love reading these again and again, and you will love watching their friendships blossom.
---
I looked up just in time to see it. "Hey!" she screamed. Her eyes started to fill with tears. Her friend just took the stamps she was using out of her hand.
"You're not a good friend." He looked up at her in astonishment.
This wasn't the first time it happened, and it won't be the last. We've been having a hard time with friendship lately.
This has been happening more often and even though we've had discussions about how to be a good friend, these interactions weren't getting any better.
Time to dive into my arsenal of tricks for teaching – starting with stories.
The best way to teach new concepts to young children is through picture books. They can easily understand different situations and figure out how each character is feeling.
Research shows that your brain reacts the same way when reading a picture book if you were living it.
This helps kids build empathy and kindness for other people.
There are countless books about friendship, but these are our favorite friendship books. You'll find yourself reading these again and again!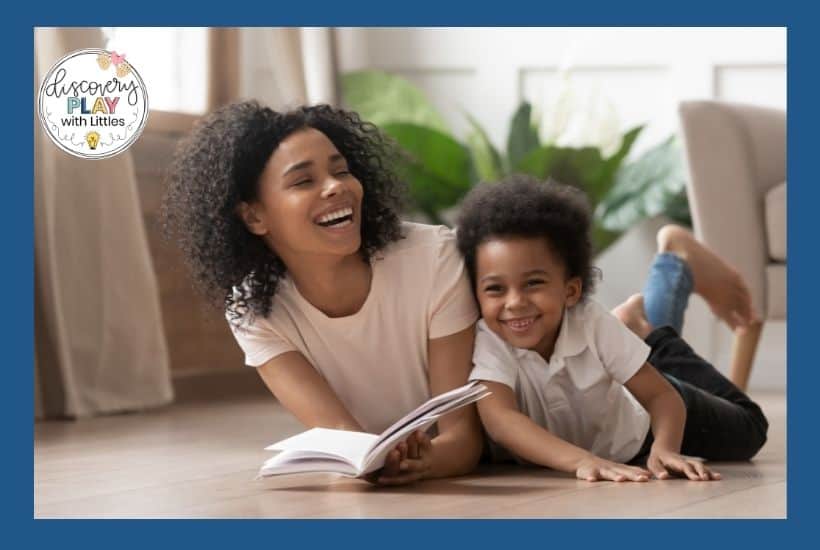 As an Amazon Associate, I earn from qualifying purchases at no additional cost to you.
Books about Making Friends
Mac (an apple) and Will (a worm) are best friends. They love spending time together until Mac starts getting called a "bad apple" for being friends with a worm. It's hard to stand up to bullies, but Mac ultimately decides he'd rather stand up for his friend than being lonely without him.
Scaredy Squirrel is scared to make a new friend. After all, what if his friend bites? Finally, Scaredy Squirrel decides it's not fun to be by himself and he wants to make a new friend, so he devises the perfect plan. When his plan goes awry, he learns that friendship can bring joy to life. This is a great book for talking to kids about how to make a new friend-what you need to do, and what you don't.
A bird and a squirrel are unlikely friends, but this sweet story shows kids that even when you are different, you can share a special friendship.
Sam, a mouse who lives in the library, and Tom, a child trying to write a story, are unlikely friends who are brought together by their common love for storytelling. This sweet story celebrates the joy of an unlikely friendship.
Chester and Wilson are best friends. They do everything together. They think alike, have lots of fun together, and enjoy all of the same toys. When Lilly moves into the neighborhood, they realize she has her own (strange) way of doing things. Can the three of them learn to be friends?
Lucy has decided today is the day she's going to make a new friend. Making friends is more difficult than she thought! She's tried everything until finally, someone comes along who loves her the way she is and wants to be her friend.
Bear and his forest friends discover a new friend, who is feeling a bit shy. This sweet story teaches that making new friends sometimes requires you to step out of your comfort zone.
Peanut Butter has just moved into a new neighborhood and wants to make a new friend. This proves to be difficult when Meatball is jumping rope, hamburger has to walk the dogs, and cupcake is too busy making a sprinkle castle. Luckily, Peanut Butter doesn't give up and eventually wins over the hearts of the other characters. Your kids will love the fun rhythm and rhyme of this adorable story and will learn that although sometimes making new friends isn't easy, it's always worth it.
Sicily Bridges can make almost anything from materials she finds laying around her apartment complex, but making friends is a little more difficult. This is a heartwarming story about finding friends in the most unlikely of places.
This is a heartwarming story about what happens when you push past the scary part of making a new friend!
Birt and Etho are best friends. They love playing and imagining together and go on many adventures. One day, a new kid arrives, can they include him in their adventures?
This is a sweet story about gathering up the courage to make a new friend. Making friends can be scary, but it's important to put yourself out there to be able to experience the joy that comes with friendship.
Sometimes our tempers get the best of us, and when Bear accidentally breaks a little girl's kite, she screams "Horrible Bear!" This book tells the story of overcoming our tempers and giving forgiveness to restore friendship.
Maggi and her best friend Milo, who is also a dog, head off to the playground for a day of fun. When they arrive, they find no dogs are allowed! Maggi decides to try to make new friends, and all of them want to play with Milo.
Are you tired of hearing "It's TOO HARD!" followed by a meltdown?
Using this one simple phrase you'll get in this powerful lesson, you'll not only be able to help your kiddo not give up but you'll:
>Activate their superpower of perseverance so that they can turn around a meltdown and keep trying
>Inspire them to use perseverance…even when it's hard
>Teach them to recognize the warning signs of giving up, and how to turn it around by taking control of their choices.
Grab your powerful FREE video lesson to teach your kiddo one of the most powerful keys to perseverance.
Books about Being a Good Friend
You can never go wrong with an Elephant and Piggie book by Mo Willems! Gerald is sad so Piggie does everything she can think of to cheer him up. In the end, it turns out all he wanted was his friend.
This is a sweet story about the friendship between a young girl and her dog. Milo is Maggi's best friend, and they go on many frog-hunting adventures together.
A neighborhood isn't fun when everyone is only thinking of themselves. This sweet story shows kids how one thoughtful action can spread like wildfire and change the way an entire community treats each other.
This book celebrates friendship and reminds everyone that it's important to have a good group of friends.
It's hard when you have a little elephant as a pet – you never seem to fit in…until you find a friend who has a skunk for a pet. They both are left out of the pet club meeting, so they decide to make a new club that includes everyone. This is a precious story about making friends, and including everyone because "friends never leave anyone behind."
This funny book teaches kids different ways to be kind and strengthen friendships.
We all have an invisible bucket, and when our bucket is empty we feel bad which often leads to dipping out of other people's buckets as well. This story teaches kids to be aware of how they are feeling, so they can be a bucket filler to others.
This is a simple story that my preschooler loves. It follows a little girl around and shows kindness all around her. Kindness is an important aspect of friendship, and this book shows just how simple it can be to be kind.
Kids love this book with simple rhyming text and a great message of helping out and sticking up for your friends.
Amos McGee has friends of all species at the zoo. When he is too sick to visit them, they decide it's time to show him some kindness and visit him for a change.
Kids follow Maddy throughout her day at school to discover that it's really easy to do a simple act of kindness for others.
This book teaches it's important to do the right thing, even when it's difficult.
Wilfred is a lonely monster, until one day a boy sees something special in him. In this sweet story, kids learn that it's important to stick up for their friends.
Leonardo is terrible at being a monster. He is struggling to scare anyone…until one day when he realizes he may be terrible at scaring people but he can make a really great friend.
Mr. Bear just wants to be left alone, but those pesky rabbits keep bothering him. Can kindness show Mr. Bear how important friendship is?
This is a cute story about why it's so important to extend kindness to others.
Books about Resolving Differences
This is a wonderful book that teaches kindness, friendship, respect, and courtesy. This is a great book that teaches even when it's difficult, it can be rewarding to make new friends…even when they start off as your enemy.
It's easy to judge something we come across that is new and different, as these two girls found out. This is a story of great friends that teaches kids that it's important to take the time to understand others, and you may just find that different isn't always bad.
This cute story shows how our bad mood can spread quickly to others, but once one animal shows a little kindness, everyone's attitude changes.
Jasper and Ollie couldn't be more different, which makes working together difficult! This book teaches us that we can celebrate each other's differences, and being different is a good thing!
Apologizing can be hard, but it doesn't have to be complicated. This hilarious book shows kids how to apologize when they make a mistake.
Books About Celebrating Our Uniqueness & Accepting Others
Chrysanthemum loves her name until she starts school. Kids laugh at her because her name is different, but the whole class learns to accept others when the music teacher shows them that being different is good.
Poor Red isn't a very good red. He can't draw anything that's supposed to be red, everything turns out to be blue. Nobody can understand what is wrong with him, until one day, a smart friend asks him to draw the ocean. Everyone can see his genius and appreciate him for who he truly is.
This crayon box just couldn't get along until a sweet child decided to take them home and show them how important it is to work together.
Lucy is teased for being different, but thankfully her grandpa teaches her to do the right thing and treat people with kindness. When one of the kids who has been teasing her gets into trouble himself, she is able to make a quick friend when she chooses kindness over getting even.
Molly Lou Melon is a little different than the rest. When she moves to a new town, she remembers the valuable lesson her grandma taught her to stand proud because even though she's different, she's special.
This is another fun book that teaches kids to be proud of who they are.
The frogs of the pond are surprised one day when they find a pig has joined them. Can the frogs learn acceptance when they see the pig as someone who just wants to make a new friend?
This sweet book teaches kids that it's important to accept friends for who they are.
---
Learning to be a good friend as a preschooler can be hard! Luckily these great picture books will help kids learn the important skills of friendship, even when your friend takes the toy you're playing with.
Want More?
If you liked this, you'll love:
7 Simple Ways to Teach Your Child Kindness
9 Activities to Teach Social Skills You Will Actually Enjoy
6 Simple Ways to Teach Responsibility for Kids
Your Turn
What are your favorite books about friendship?