Inside: Trying to prepare your child for kindergarten is like running a race…if you don't know where the finish line is. Parents don't have any idea what kids need to know to fully be prepared for the wonderful world that is kindergarten. Grab your free kindergarten readiness checklist at the end to find out exactly what your child needs to know to be ready to thrive in kindergarten.
---
I watched as he crawled under my table. His mom tried everything she knew to do to get him out. He refused. Next, he sat in my chair, spun around, and started going through my drawers. This was a child who was not ready for the year ahead.
The longer this went on, the deeper my heart sank. This could prove to be an exhausting year.
Kindergarten Open House was tonight, and I was taking inventory of my new littles. That day, I met 7 who wouldn't talk to me, 8 who couldn't recognize their name, 6 who didn't know what letter their name started with…and 1 who wouldn't come out from under my teacher's table.
Hoping this just meant the kids were nervous to see their new classroom, I packed up and went home to get a good night's sleep and prepare myself for the next day. I knew I had my work cut out for me.
Studies show 6 out of 10 students are unprepared for kindergarten.
Throughout my years as a kindergarten teacher, I have had many students enter kindergarten who are completely unprepared for what lies ahead. Parents are unaware the standards have changed dramatically in the past few years, and weren't sure exactly what they should've been working on at home…before kindergarten started.
Kindergarten now is what used to be first grade. By May, my students are writing 5-page research books and reading at a C/D level. We are doing subtraction and addition, patterns, and comparing more and less. Drastically different than the kindergarten class I attended.
As a kid in kindergarten, I made a color book, learned my letters, and maybe counted to 10. That happens in August these days.
No academics are required to be mastered before they enter kindergarten. But if your child has had no exposure to anything academic they will start off behind, which is a huge problem.
The Foundation of Their Entire Academic Career
For those who enter Kindergarten behind, 75% never catch up with their peers. If a student is behind in kindergarten, first grade isn't going to get any easier. They will then have to try to learn the kindergarten and first-grade material. This often proves to be too much, even with extra help at school and support at home.
Starting kindergarten with a solid foundation, and building on that foundation throughout their kindergarten year is critical to your child's academic success.
Luckily, there are many simple things you can do at home during your daily routine to prepare them for a successful experience in kindergarten and to love learning.
Activities to Prepare Your Child for Kindergarten
As an Amazon Associate, I earn from qualifying purchases at no additional cost to you.
Read: The most important thing you can do with your child is read. The child who is read to regularly will be exposed to more words, word patterns, rhythm, rhyme, academic concepts, vocabulary just to name a few. Children who are read to consistently are also more kind and empathetic.

Here's a few of our favorite books:
Are you tired of hearing "It's TOO HARD!" followed by a meltdown?
Using this one simple phrase you'll get in this powerful lesson, you'll not only be able to help your kiddo not give up but you'll:
>Activate their superpower of perseverance so that they can turn around a meltdown and keep trying
>Inspire them to use perseverance…even when it's hard
>Teach them to recognize the warning signs of giving up, and how to turn it around by taking control of their choices.
Grab your powerful FREE video lesson to teach your kiddo one of the most powerful keys to perseverance.
Shapes:

Place posters of the "main" 4 shapes around your house. (circle, square, triangle, rectangle). One is on the fridge, the bathroom mirror, your child's door and the door to the garage. As you pass each space, have your child identify the shape. If the circle is on the fridge, when he wants a drink of milk or a snack he has to identify the shape. Rotate the shapes so your child doesn't learn that circle is the fridge.

Make it a scavenger hunt: In a restaurant, can they find a triangle? Square? In the grocery store can you find shapes? When you're driving, what shapes are road signs?
Shape of the Week Curriculum: Check out our Shape of the Week Curriculum that teaches 9 shapes through hands on exploration and play!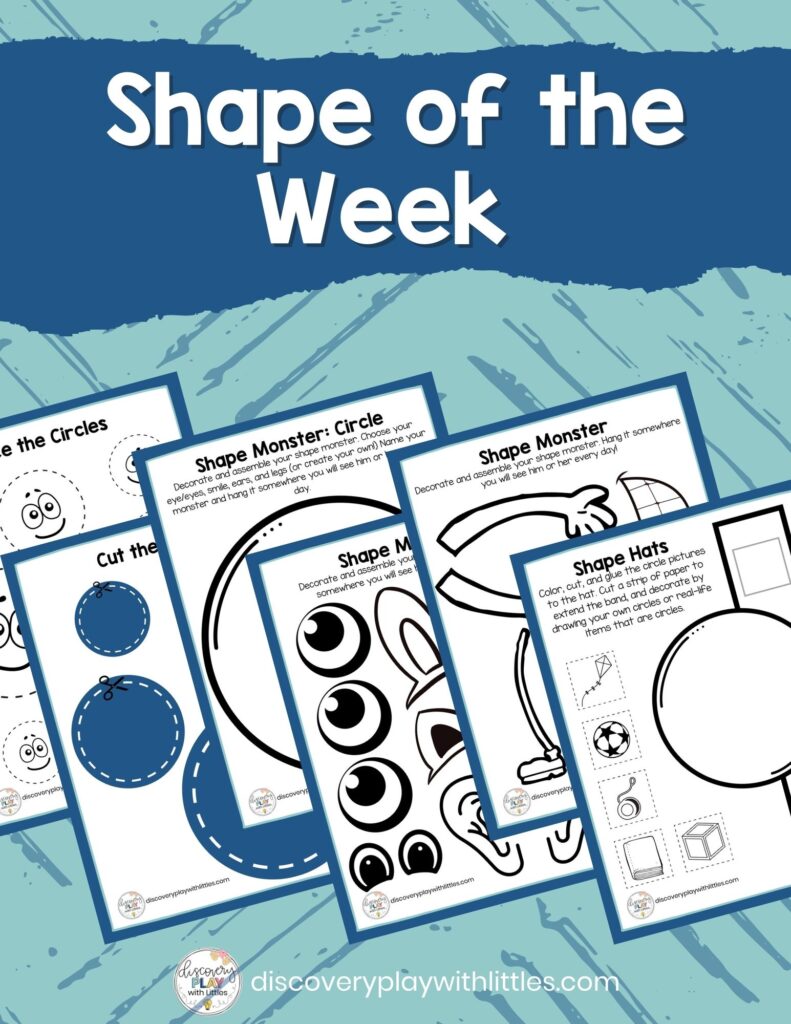 Colors:

Color baths: Ask your child what color they would like and send them on a scavenger hunt around the house to find (bath appropriate) toys of that color. If you do a blue bath, find all blue toys to put in the bath.
Clean up time: Clean up all the toys of certain color first. For example, clean up all the purple toys first, blue toys next.
Go on a scavenger hunt while grocery shopping or at a restaurant. Ask your child if they can find colors while looking around.This also makes waiting easier.
That year was difficult, but we made it. Luckily, the child who wouldn't get out from under my teacher table turned out to be sweet as can be, but extremely behind. He struggled all year, even with extra help, and continued to struggle in first grade.
I hope you found some good ways to sneak in some learning through play that will help set your child up to thrive.
Grab Your Kindergarten Readiness Checklist
Preparing your child for kindergarten is like running a race, without knowing where the finish line is. Want to know exactly what you need to do to prepare your child for kindergarten? Grab our free Kindergarten Readiness Checklist.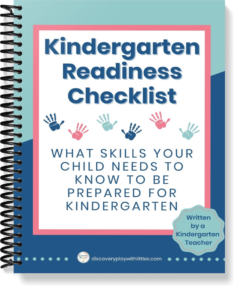 Want More?
If you liked this, you'll love:
Your Turn
How do you introduce your child to pre-academic skills?