Inside: Preschoolers are at such a fun age, full of energy, joy, and curiosity. It can be difficult to find meaningful gifts that will capture their interest for more than a couple of weeks. These are our favorite gifts for preschoolers that encourage creativity, exploration, promote strong family bonds, & will be a favorite toy for years to come.
---
Months ago, I started thinking about this. Coming up with the perfect Christmas list takes time. Our house isn't very big and fills up quickly…on top of that, our boys have everything they need and want.
I look for gifts that will be meaningful and hold the boys' interest for a long time. We love toys that encourage hands-on exploration, teach social-emotional skills, are fun to do together, and don't drive us crazy.
We love asking for experiences for our kids, but that is difficult for family that lives far away. Our boys love going bowling, to sky-zone, or to the zoo (just to name a few) for a special date. This not only gives them one-on-one time with the people they love but gives them memories to treasure for a lifetime.
If a special date isn't on their list this year, check out our favorite gifts for preschoolers that promote problem-solving, patience, perseverance, creativity, and exploration.
Our Favorite Gifts for Preschoolers
As an Amazon Associate, I earn from qualifying purchases at no additional cost to you.
Strider – 12 Sport Balance Bike
The magic of the balance bike is real! Kids catch on quickly and learn to balance without training wheels. They feel successful quickly and can zip around with the big kids.
STEM Toy Children Magnetic Tiles Building Set for Kids
Magnatiles are great for open-ended, creative play, and this marble run is great on its own or as an addition to any magnatile collection. We love building different types of marble runs, and enjoy the challenge of making each marble run bigger than the last! We have this set and I'm impressed with how strong the magnets are and how easy it is to build and take apart.
Magna Tiles Metropolis Set, The Original Magnetic Building Tiles for Creative Open-Ended Play, Educational Toys for Children
More magnatile fun! I love watching our boys create and imagine with magnatiles. They play with these for hours, and magnatiles are a toy that keeps kids' interest for many years.
NATIONAL GEOGRAPHIC Amazing Chemistry Set – Mega Chemistry Kit with Over 15 Science Experiments
We have recently discovered the magic of science experiments. I love watching the looks of amazement and wonder when we are doing an experiment. Kids learn processes, asking questions, making predictions, all while getting interested in science.
Over 360 Science Experiments Including Volcano Science Kit, Crystal Growing Kit, DIY STEM Educational Toys
We are loving science experiments right now. Every time we have a few extra minutes Jacob asks "Can we do a science experiment?" This is a great kit full of exciting hands-on exploration!
Radio Flyer Lean 'N Glide Scooter with Light Up Wheels
Finding ways to burn the endless supply of energy can be tricky, but we love this scooter. It has two wheels in front so when kids push-off, their ankle isn't hitting the wheels. The light-up wheels are an exciting motivation to keep going fast!
Number Robots Toys, Learning Transformers Toys
These are always the most popular choice at free time in the classroom. Kids love these number transformers…and parents love the number recognition skills that are practiced!
Alphabet Robots Action Figure Alpha-Bots Educational ABC Letters Preschool Learning Stem Montessori Classroom
These are another popular choice during free time in the classroom! Kids love playing with these alphabet transformers, and we love the letter recognition learned!
Check out the lowercase letters.
Are you tired of hearing "It's TOO HARD!" followed by a meltdown?
Using this one simple phrase you'll get in this powerful lesson, you'll not only be able to help your kiddo not give up but you'll:
>Activate their superpower of perseverance so that they can turn around a meltdown and keep trying
>Inspire them to use perseverance…even when it's hard
>Teach them to recognize the warning signs of giving up, and how to turn it around by taking control of their choices.
Grab your powerful FREE video lesson to teach your kiddo one of the most powerful keys to perseverance.
Great Activities for Hours of Exploration
Sensory bins are reusable and will keep your child exploring and learning for hours on end, without hours of preparation from you!
Sensory bins help develop language skills, fine and gross motor skills, exploration skills, problem-solving, spatial awareness, imagination, and even academic skills such as sorting, counting, and language skills.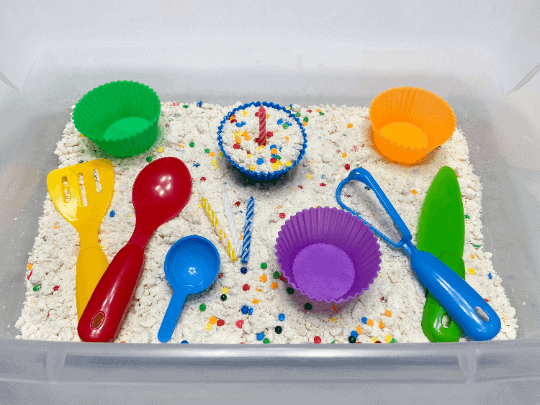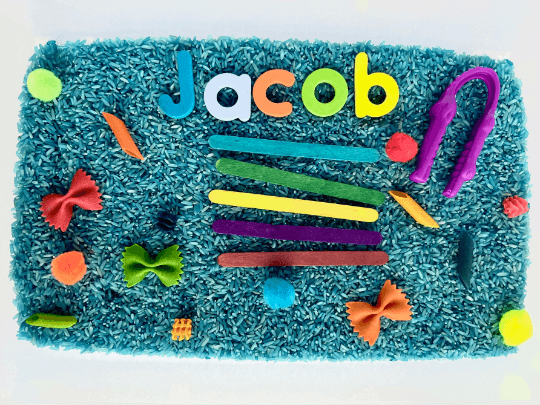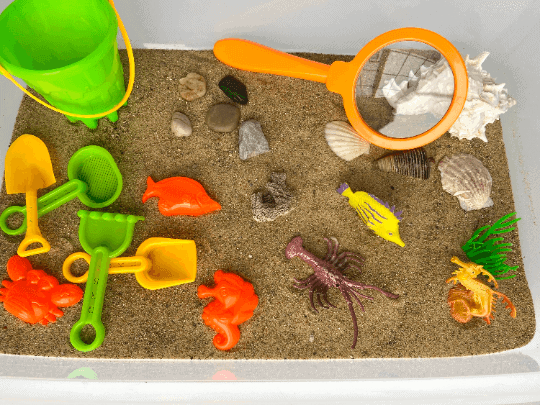 Games
Games are fantastic gifts and toys. Children learn social skills, turn-taking, cooperative play, and often time academic skills as well. Games are great at teaching skills and building a strong family bond.
Games by Peaceable Kingdom are our favorite because they are cooperative games, which means all players work together toward one goal, and they grow with your child with different levels for play. This makes them fun for multiple ages and a favorite game that lasts many years.
Peaceable Kingdom Feed The Woozle Preschool Skills Builder Game
Feed the Woozle teaches fine motor skills, gross motor skills, dexterity, counting, and cooperation when you have to decide what yucky snacks to feed the Woozle. Different levels of play makes it fun for the whole family.
Peaceable Kingdom Snug as a Bug in a Rug Award-Winning Preschool Skills Builder Game
Snug as a Bug in a Rug teaches counting, colors, shapes, bigger/smaller, cooperation, and social skills. Work together as a team to get all of the bugs safely under the rug before the stink bugs take over.
This says for ages 6+ but it's easy enough that even 4-year-olds can catch on. The rules are simple enough- to make lines by matching colors and shapes, and the game teaches problem-solving, planning, and spatial recognition.
This game says for 7+ but again, it's a simple game that my 4-year-old caught onto pretty quickly. We started with all of our cards face-up, but it's just a color and number matching game so it's a great way to practice color recognition skills and planning ahead.
Don't Forget!
We always give at least one book at Christmas also. Here are our Favorite Books for Preschoolers.
---
I hope you found some great gift ideas that are great for your preschooler's development…and that won't drive you crazy!
Want More?
If you liked this, you'll love:
Your Turn
What would you add to this list? Let us know in the comments below!