My house is filling up with stuff. Christmas is coming up, and I'm trying to sift through the abundance of dust-covered toys to make room for new ones.
I want to make sure that whatever list of toys for my son I give to our well-intentioned family is full of the best, educational toys that will help him learn and grow..and not end up in the bottom of the toy box collecting dust.
After thinking about what skills are developmentally appropriate to teach him, this is the list of toys that will help him develop the necessary skills to thrive.
Our favorite toys for toddlers that educate and entertain!
As an Amazon Associate, I earn from qualifying purchases at no additional cost to you.
Roll and Play Game for Toddlers
This was the first game we bought when my son was old enough. I love the way it makes learning simple concepts fun and teaches taking turns as well. There is no end to the game, so if your toddler decides they are done you can pack it up and be done, or if they want to keep going, turn the cards over and play again!
We love this game! It is great for color recognition, hand-eye coordination, and social skills like taking turns. My 2 1/2 year old can play it, and this game is enjoyable for multiple ages…not to mention quick for short attention spans.
Peaceable Kingdom Monkey Around Game
This is a great game that teaches 2-year-olds social-emotional skills, gross motor skills, hand-eye coordination, and vocabulary. Monkey Around offers an exciting way to strengthen your family bond, giggling the whole time!
Are you tired of hearing "It's TOO HARD!" followed by a meltdown?
Using this one simple phrase you'll get in this powerful lesson, you'll not only be able to help your kiddo not give up but you'll:
>Activate their superpower of perseverance so that they can turn around a meltdown and keep trying
>Inspire them to use perseverance…even when it's hard
>Teach them to recognize the warning signs of giving up, and how to turn it around by taking control of their choices.
Grab your powerful FREE video lesson to teach your kiddo one of the most powerful keys to perseverance.
Spike the Hedgehog is a fun way to practice fine motor skills and strengthen muscles in little hands!
Melissa & Doug Jumbo Knob Wooden Puzzles – Shapes and Farm Animals
Puzzles are great for kids to practice visual perception and hand-eye coordination. Your toddler can learn shapes and farm animals as well!
Melissa & Doug Classic Wooden Peg Puzzles (Set of 3) – Numbers, Alphabet, and Colors
Teach your child numbers, alphabet, and colors with these wooden puzzles. Puzzles also help develop fine motor, hand-eye coordination, and problem-solving.
Nuts and Bolts – Fine Motor Skills
Practice shape sorting, colors, finger dexterity, and pairing with this nuts and bolts set.
JUMBO Primary Lacing Toys For Toddlers
Lacing is another great way to practice fine motor skills.
Fat Brain Toys Wooden Personalized Name Puzzle
What a great way to start exposing your child to their written name, and practice fine motor skills, colors, letter recognition, and hand-eye coordination at the same time!
Teaching colors? Your child will love these bath drops to turn the water colors. We also love to find water-safe toys that are the same color to play with during bathtime.
Glow sticks are amazing toys for toddlers. We love to put them in the bath, play with them if we are cranky, and we always have some on hand for when the power goes out!
Veggie Baby Finger Paints for Toddlers
Toddlers love to explore the texture of finger paints and are proud of the pictures they create!
Bath Toy Sets, 36 Foam Bath Letters and Numbers, Floating Squirts Animal Toys Set with Fishing Net and Organizer Bag, Fish Catching Game
This is a great way to introduce your child to letters! Through a little play in the tub, you will be surprised at how quickly (and fun) it is to watch your child master their letters.
Step2 Fun with Friends Kitchen
Our kitchen is the most popular toy in our home. Everyone who visits wants to play in the kitchen, and my son will be entertained for hours cooking up different meals for us to eat.
Step2 Tropical Rainforest Water Table
Our water table is a very popular toy during the summer. Water play is great for kids, practicing dumping, scooping, and splashing!
Step2 Naturally Playful Sand Table
We love this sand table. It's big enough that it allows several kids to play together and small enough it's not in the way.
A trampoline is a great way to burn the abundance of energy that your toddler has.
Melissa & Doug Latches Wooden Activity Board
We love our latches board. It's a great way to practice counting and fine motor skills!
Melissa & Doug Wooden Building Blocks Set
Help develop early math skills, shapes, colors, and fine and gross motor skills!
Melissa & Doug Match and Roll Shape Sorter
Develop shape recognition, problem-solving, colors, and fine motor skills!
Play-Doh Ultimate Fun Factory, Great First Play-Doh Set Multipack
Play-doh is great to develop imagination and build muscles in little hands!
Great Activities for Hours of Exploration
Sensory bins are reusable and will keep your child exploring and learning for hours on end, without hours of preparation from you!
Sensory bins help develop language skills, fine and gross motor skills, exploration skills, problem-solving, spatial awareness, imagination, and even academic skills such as sorting, counting, and language skills.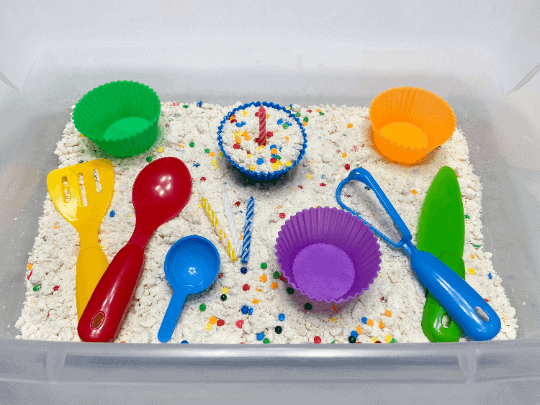 Your toddler will love exploring cloud dough with our Baking Sensory Bin Activity Kit.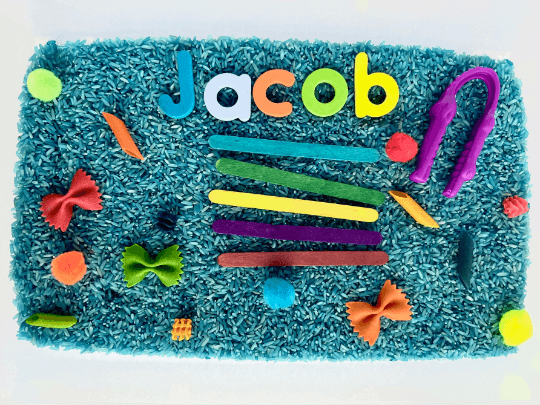 What a great way to practice name recognition with our Name Sensory Bin Activity Kit.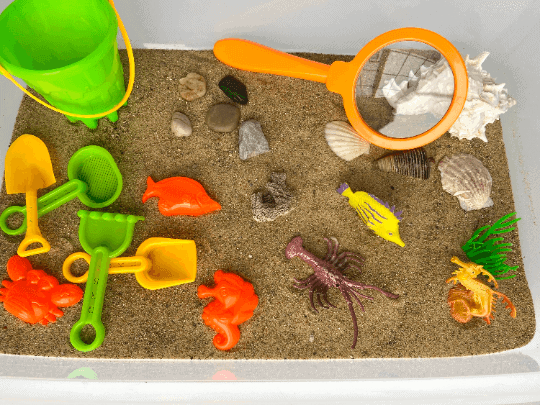 Your child will love exploring the sand, ocean animals, and shells with our Beach Sensory Bin Activity Kit.
I hope you found some great *dust-free* gift ideas for the toddler you love!
Want More?
If you liked this, you'll love:
Best Baby Toys for Educational Play and Boosting Development
Your Turn
What are your favorite toys for toddlers?