Inside: These books teach children what perseverance means and how it applies to their own lives. From cute picture books to real-life stories, your kiddo will love these relatable books.
---
He stomped his foot, threw his marker, and yelled "This is too hard, I'll never get it!"
We were drawing, and apparently, he had a picture in his mind of what his drawing was supposed to look like…unfortunately, the picture he was drawing wasn't turning out as he had hoped.
I have to be careful in these moments not to brush past his big feelings. My initial reaction is to say something like "Oh cammon, you're doing a great job," but skimming over his big feelings won't teach him anything.
This sentence is one that I'm hearing more often, and there's something about it that just seems to get under my skin.
I don't know if it's the fact that it serves as a warning of an impending meltdown, or if it's just that I'm taking his "I quit" as laziness. Either way, if I'm not intentional, it's difficult for me to stay calm and not join the tantrum.
For my preschooler, a lot of new activities can be difficult. Drawing, buttoning his shirt, writing letters the correct way, learning to ride his bike…the list of frustrating activities goes on and on.
I don't remember being taught perseverance, but I must have learned it at some point. I want to raise my boys to be hard workers and to keep at it even when it's hard, and that takes intentionality.
We've had conversations about perseverance. We've talked about not using the word 'never' and why it's so important to keep trying, but none of that was sinking in…or at least not as quickly as I'd like.
Multiple studies have shown that perseverance is a more accurate predictor of achievement, even more than raw talent or aptitude– and this makes sense.
It doesn't matter if academics come easy to you, if you use perseverance, you'll keep working until you figure it out. Quitting isn't an option.
Studies show that when reading storybooks, your brain reacts as if you were living out the story. That's one reason I love reading, and why they make such powerful teaching tools.
Our Favorite Books that Teach Perseverance
As an Amazon Associate, I earn from qualifying purchases at no additional cost to you.
by Mark Pett and Gary Rubinstein
Lou and her friends are brave adventurers, until one day they decide to climb a tree. This is something new for Lou, and she's nervous to try. She starts making excuses until her friends help her face her fears.
by Diane Alber
The Little Spot books are some of our favorites. A Little Spot of Perseverance helps kids learn they are able to succeed if they don't give up.
by Ashley Spires
I feel like I've lived this story (and I bet you have too!) Ashley Spires tells a story about a young girl who has a wonderful idea- a creation she wants to make. It's going to be the most MAGNIFICIENT thing! The only problem is she has a hard time getting it to turn out right. After taking a walk with her dog, she comes back with renewed excitement to persevere and make her creation the best it can be.
Are you tired of hearing "It's TOO HARD!" followed by a meltdown?
Using this one simple phrase you'll get in this powerful lesson, you'll not only be able to help your kiddo not give up but you'll:
>Activate their superpower of perseverance so that they can turn around a meltdown and keep trying
>Inspire them to use perseverance…even when it's hard
>Teach them to recognize the warning signs of giving up, and how to turn it around by taking control of their choices.
Grab your powerful FREE video lesson to teach your kiddo one of the most powerful keys to perseverance.
by Oliver Jeffers
When Floyd's kite gets stuck in a tree, he has to figure out how to get it down. He decides to throw a shoe at it, but that gets stuck too. Follow Floyd on his journey of perseverance and problem-solving while trying to get his kite out of the tree.
by Steve Herman
Having a pet dragon is great…but what if he is always afraid of doing hard things? You can teach him that he can do hard things. This cute story teaches kids perseverance and growth mindset.
by Ezra Jack Keats
This is the sequel to another of our favorites, The Snowy Day. In Whistle for Willie, Peter is a little older and wants to learn to whistle. He tries and tries until his cheeks hurt, but thankfully, he perseveres until he can master whistling.
by Vera B. Williams
A Chair for My Mother is a heartwarming story about a little girl, mother, and grandmother who all are working hard to save every penny they can so they can buy a comfortable chair for their apartment. They had a fire in their last apartment and now have nowhere comfortable to sit. This book teaches kids that hard work and perseverance pay off.
By Oliver Jeffers
Once there was a boy who loved stars, and wanted one of his very own. He decided he wanted to catch one but couldn't decide on the best way to catch a star. Follow along with him as he tries many different ways to solve his problem.
by Elizabeth Estrada
Kaira chooses to keep trying, even when things are hard. This rhyming story is relatable to kids, as they can put to words how it feels to fail. They will learn what perseverance looks like as they follow Kaira as she makes mistakes, and learn that mistakes help her grow.
by JoAnn Deak, Ph.D.
This is a funny book that teaches kids that mistakes are strengthening your brain. Mistakes aren't bad, but they help you grow your brain and learn…as long as you keep trying and don't give up.
by Anthony Curcio
This is the story of NBA Star Stephen Curry. He was too short to play basketball in high school, too weak in college, and not good enough for the NBA. This is his story of perseverance and following his dreams.
by Mr. Jay
Join the rock friends that get together and roll down the hill…only to discover one of their friends can't roll! The other rocks are determined not to leave their friend behind, and use perseverance to help Ricky roll-one way or another.
by Lita Judge
A persevering little penguin is determined to fly. He needs a little help with the technical parts, but he keeps trying and eventually turns into a flying machine!
by Andrea Beaty
Where some people see junk, Rosie sees treasure. She constructs grand inventions from odds and ends, but she's afraid of failure so she hides them under her bed. One day her great-great-great Aunt Rose visits her and shows her that mistakes aren't something to fear, but something to celebrate.
by Deloris Jordan
As a child, Michael Jordan almost gave up on his dream of playing basketball, all because he was afraid he wouldn't grow tall enough to play well. His mother and father taught him how to be a real star- by using perseverance and patience. This is an inspiring story about a family who worked together to make a dream come true.
by Bob Goff
As a little boy, Michael Jordan dreamed of winning an Olympic gold medal. This inspiring picture book, which was written by Deloris Jordan, shows a little of his childhood and tells how perseverance paid off.
by Dan Paley
Stories are still told on Regent Street in Philadelphia of Luigi, who ran faster than everyone else and never lost a race. They say he always ran barefoot, and they still tell the story of the race nobody thought he would win- not even Luigi himself.
by William Steig
Brave Irene is dressmaker's daughter. Irene's mother has made a beautiful ballgown but isn't feeling well, and can't possibly go out in a snowstorm to deliver the dress. Brave Irene faces the wicked wind, and perseveres to complete her mission.
by Dan Santat
Everyone knows that Humpty Dumpty fell off the wall…but what happened after the fall? Humpty Dumpty has a new fear of heights but if he gives into that fear, he can no longer do many of the things he loves to do. This inspirational story shows children that when you use perseverance to face your fear, you can accomplish anything.
by Laurie Ann Thompson
Born in West Africa with one deformed leg, almost everyone wrote off Emmanuel Ofosu Yeboah, but not his mother. His mother taught him to use perseverance to accomplish his dreams. Even with one deformed leg, he learned to play soccer, walked two miles to school each day, and eventually, became a cyclist. In 2001, he rode an amazing 400 miles to spread his message: disability, not inability. He continues to work on behalf of the disabled. This inspirational story will teach kids that perseverance isn't always easy, but great things happen when you use perseverance in the face of a real challenge.
by Ole Konnecke
Bert was prepared, and he checked again and again. Even though he knew he was prepared, he hesitated. With a little encouragement from his friends, he was able to use perseverance to go for it.
by Marjorie Blain Parker
Henri dreamed of being an artist, although his parents expected him to learn a trade. He continued to dream of an exciting life, and began to paint. Eventually, he became one of the most famous artists in the world. This inspiring book teaches that people from all walks of life can pursue their dreams, as long as they don't give up.
Noisy Paint Box
by Barb Rosenstock
Vasya Kandinsky was a proper little boy, so when his family sent him to art classes, they expected proper paintings. But instead, Vasya began to mix the colors, and hear the beautiful music that they made. As one of the first abstract artists, he experienced colors as sounds, and sounds as colors. This unique story teaches kids to be true to who you are- even when you see things differently than everyone else.
Still Working on Perseverance?
Looking for more ways to teach perseverance? Grab your free lesson that teaches your kiddo the key to perseverance– which is how to talk to your brain.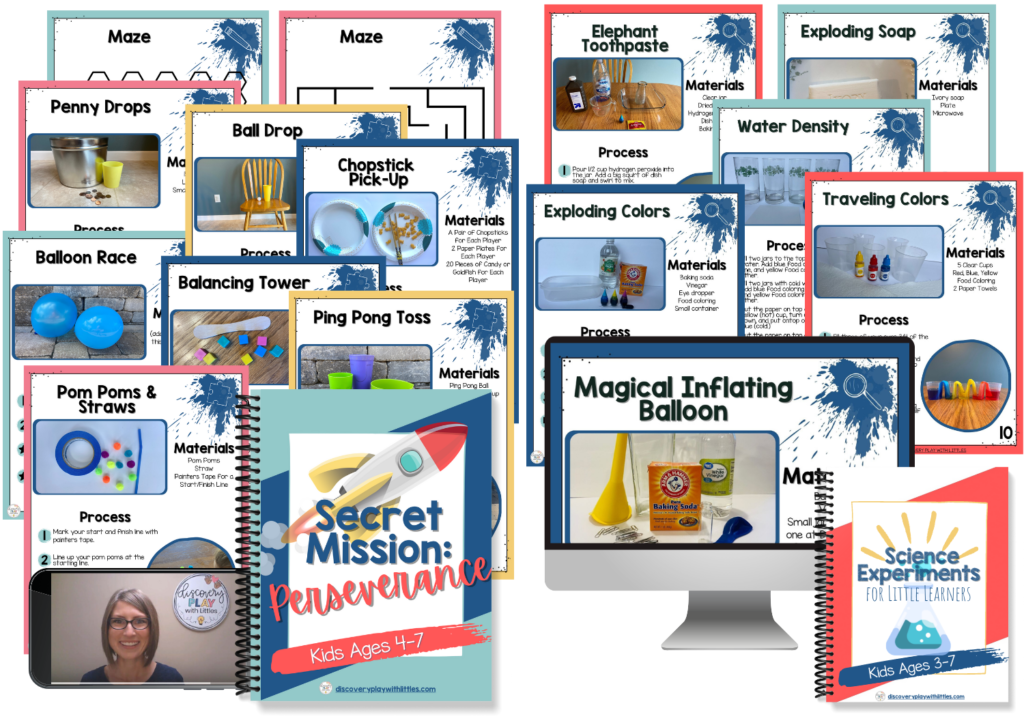 You also might be interested in Secret Mission: Perseverance. These are 16 of our favorite games that teach perseverance while having a good time of connection and laughter and strengthening your kiddo's perseverance all at the same time.
---
Perseverance takes some effort to teach, but with a little intentionality and a lot of patience, you will see your kiddo start to use more perseverance throughout daily tasks…even when they can't get their picture exactly right.
Want More?
If you liked this, you'll love:
43 Children's Books about Friendship that Teach How to be a Good Friend
7 Simple Ways to Teach Your Child Kindness
9 Activities to Teach Social Skills You Will Actually Enjoy
6 Simple Ways to Teach Responsibility for Kids
Your Turn
What picture books do you use to teach perseverance?
Pin for later!